Hey Guys, I am back to show you again another extra income that we can do especially during the time of Lockdown and without further ado let me introduce you to PrizeRebel Review.
We know that working in an office is stopping us on what we really want to do, And having an online job will be better so we can spend more time with our family.
For people, not probably all, Having a home-based job is a dream and with this survey sites will let that dream come true. That's why I always advise people to expect not too much for a certain website.
Never expect to earn a lot of money with less work and less effort that you will provide. If that site says you can earn big by just clicking things then that surely is not a guarantee.
Before anything Else: VISIT THE SITE CLICK HERE!
Disclosure: Some articles on this website contain affiliate/sponsored links. Read More about our Affiliate Disclosure.
Again with this review, Don't expect to become a billionaire by just signing up on a website. That will be insane. LOL. Or buy a Lamborghini in a month. That will be not so realistic right.
So let's get in to business and talk about what really is PrizeRebel and how the site works.
What is PrizeRebel?

Platform Name: PrizeRebel
Website: prizerebel.com
Business Type: GPT (get-paid-to)
Recommended? For Extra Income, yes.
PrizeRebel is one of the big websites within online paid survey / get-paid-to sites (GPT). It has existed since 2007 and according to their own numbers, it has more than 10 million users and has paid out over $21 million in rewards.

During my research, PrizeRebel is Definitely a Legit site that you can use. But this matters in the country that you are located.
It depends, because some of the countries offer a lot of opportunities while others doesn't. An example of them is United States.
We are located in the Philippines so I will show you how you can earn in PrizeRebel. It doesn't limit to the surveys only.
How to earn Money in PrizeRebel?
During the time when I created my account with a Facebook sign up, I have no bonus points.
After that I discovered that you can earn by completing surverys and tasks on the site. See the image below.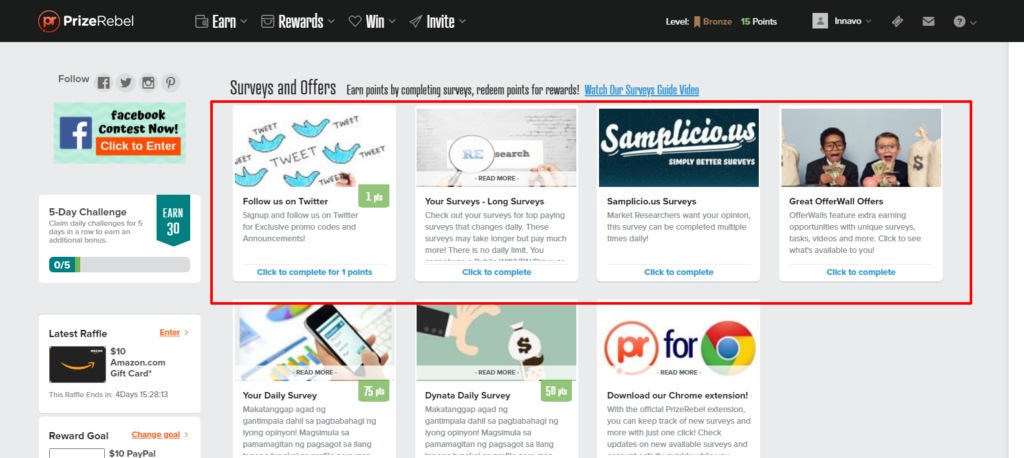 These are the example of tasks that have complete or needs to be completed so that we will earn more points. There are also surveys.
After completing two tasks we now have 15 points.
Complete Tasks/Daily Surveys:
Earn Points By Inviting your Friends:
Oh, Check also their Facebook page: https://www.facebook.com/ThePrizeRebel/
They always post free redeem codes for adding points on your account. We turned the notification on their page so we get the free codes as quickly as possible.
Tried to redeem the old codes but it already expired. Sad huh.
I will still update this blog once we finally receive gift cards or awards going to our PayPal account. And other legit techniques we can do so we can have more points even if we are from the Philippines.
How much does the membership cost?
Actually this is really obvious. This site is absolutely free to join. You will not pay for anything.
What are the Advantages and Disadvantages?
In Every site or application there are Advantages and Disadvantages. Check the different lists bellow.
When comparing PrizeRebel, They are unique and having this tremendous surveys on their database. Which other companies use to have a great plan. They also have an amazing referral system which I love.
When you have questions their support system is fast enough that they can answer your question within 24 hours. They have a QandA section that you can browse to check if your question already been answered.
Advantages
Highest revshare payout in the industry
Huge inventory of Surveys and Offers
Worldwide earning opportunities
PayPal and gift card rewards
Higher earnings per click than traditional CPA affiliate programs
Over tens of thousands paid to our affiliates each month
Disadvantages
Not all qualify for all surveys (but that goes for any survey site).
There are not a lot of opportunities in all countries.
Adding to the good opportunities in the Google Extension which they created. This Extension can let you stay updated if there are new surveys, you get notified easily.
The thing that I don't really like about them is that when you are going to fill out a survey. During the profiling, you passed but then when you submit it says you are not qualified or it is not a good match. Man!! that is so frustrating.
The one thing that they could improve is creating a mobile application which all users can use their mobile phones to have more points on our account.
So, if we are traveling we can still take surveys and more.
How to sign up in PrizeRebel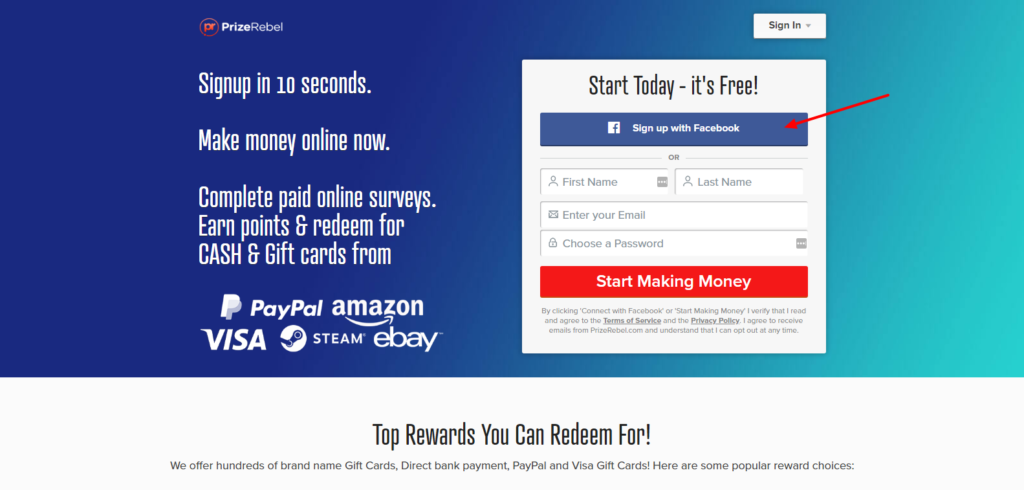 Refer to the Image above. That is the homepage of the website and at the right side you can see that it has a form for signing up. Click the Sign up with Facebook.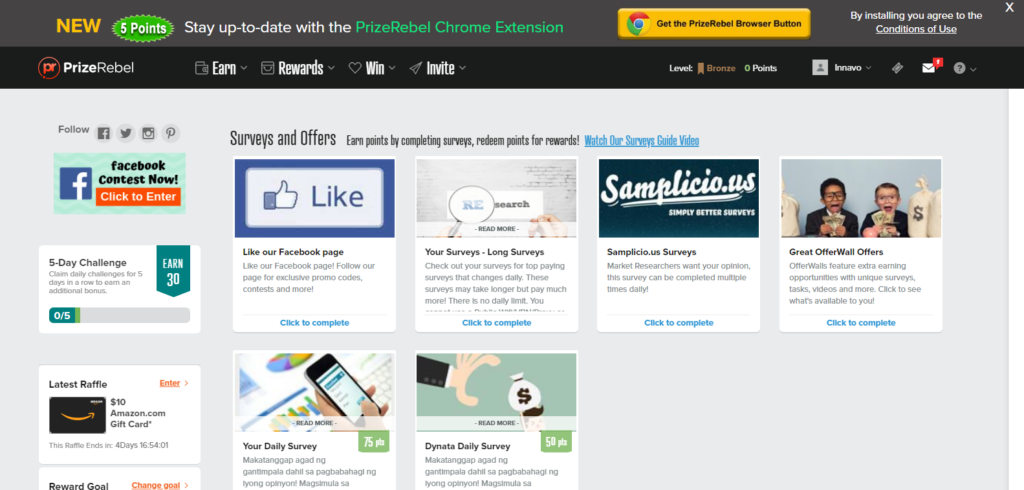 And that's just it. With one click you will have your profile created easily.
How about their referral program?
Their referral program are so amazing. And really really exiting.
Take a look at this image bellow.

Based on my understanding if you will use my affiliate link or referral link. Then I will earn 15% bonus. But if you will invite another friend. Then you will earn 15% bonus on them. But I will not earn anymore. Because that is your invite not mine.
At least they are not pyramiding scam right.
I love survey sites that are not relying on referral system. This is the best example.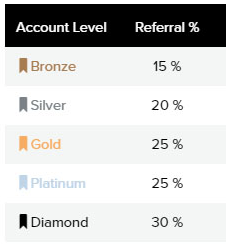 Check this image that tells us, If we have referral bonuses it will only have 15% in the bronze account level. And if our account level reach to Silver we will have 20% referral bonus. And so on.
So the account in PrizeRebel have different levels.
When you will level up the bonus will also grow.
Check Other Peoples Testimonials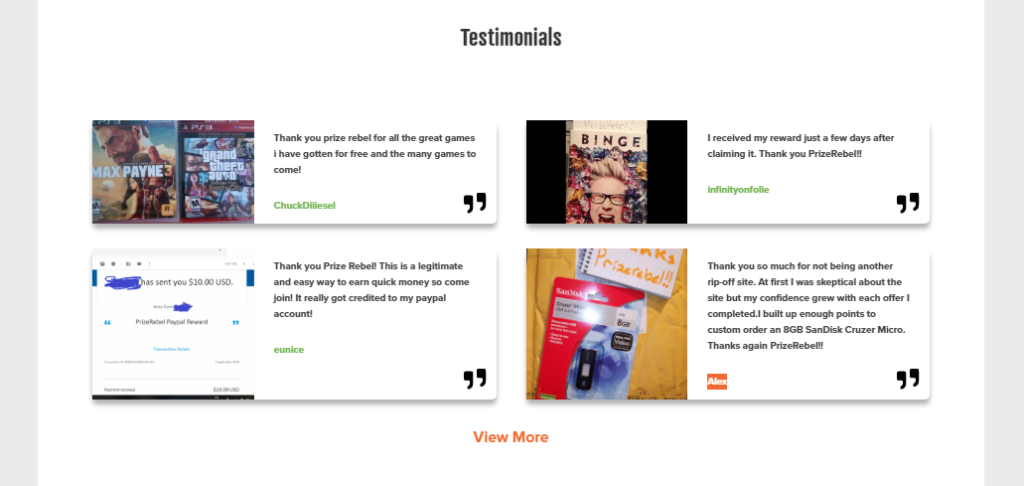 Thank you prize rebel for all the great games i have gotten for free and the many games to come!

ChuckDiiiesel
I received my reward just a few days after claiming it. Thank you PrizeRebel!!

infinityonfolie
Thank you Prize Rebel! This is a legitimate and easy way to earn quick money so come join! It really got credited to my paypal account!

eunice
Thank you so much for not being another rip-off site. At first I was skeptical about the site but my confidence grew with each offer I completed.I built up enough points to custom order an 8GB SanDisk Cruzer Micro. Thanks again PrizeRebel!!

Alex
You can check more testimonials on their website.
Is Prize Rebel Legit?
According to my research and experience. Prize Rebel is paying and legit application that you can check it out.
Again the last decision is still in your hand.
Check out the payment proof below.
Payment Proof
Ongoing…
But Check out some of the other user payment proofs here: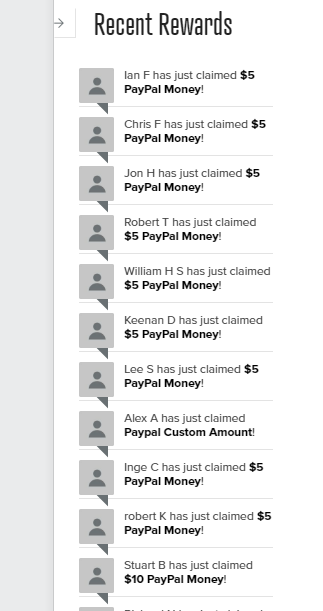 Where to Withdraw your points?
Well that is easily to be find. And that is in the Rewards menu at the top.
If you reach 1000 points on your account you can exchange that with money. Going to your Paypal account. I preffer Paypal because I have one. Well it depends on your situation where do you prefer?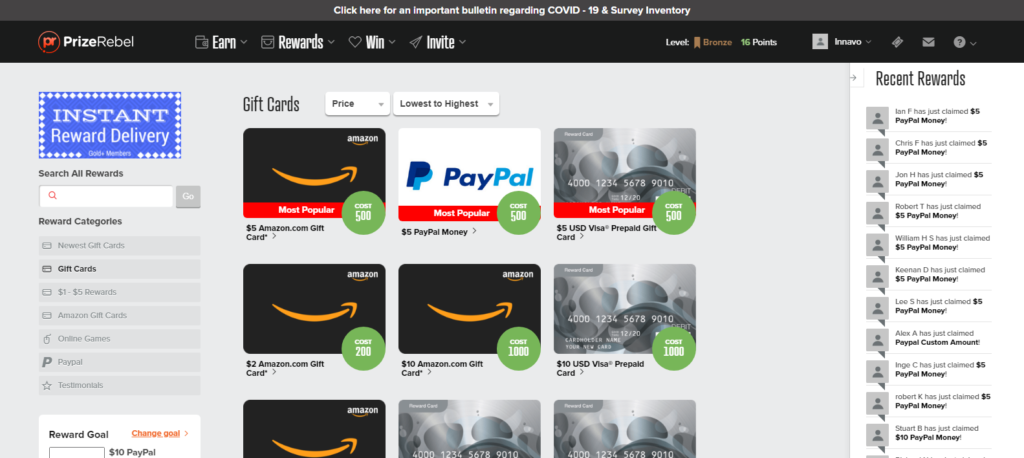 Once you are on this page, you will also see the Recent Rewards where some of the users withdraw their points going to there Paypal. Awesome right.
When you will going to request or claim your rewards then please be patient because it will be processed after 24 hours or if your account level is in gold or higher then it will just process within 10 minutes or more.
PrizeRebel Review Conclusion

I can't conclude right now that they are still paying because im currently enjoying their site and earning points.
As We have gathered information with different site reviews. They all have a positive review. So for now let's say this is 80% Legit Site. the 20% will matter on our experience. hehe.
Thank you so much for reading this blog and again dont forget to share. Comment your questions and I will answer them personally.
Cheers,
G