You maybe wondering why this tutorial is very short in How to Change Php Version in Cpanel. Well the quick answer is that – IT IS. It should be short. You only need 2 simple steps to do it. Learn how.
This is a tutorial on how you will going to change your PHP Version in your Cpanel. Now it's going to be easy in changing that and I think some of the hosting sites will not let you change it. But mostly they will.
So here's what we are going to do.
1. Go to your Cpanel
2. Look for PHP Configuration
3. And it will show all the versions available to you.
4. Then choose what version you will be going to choose and click on update. Then you are good to go.
That's really simple right. I hope this helps.
Before Changing the Php Version Back up your website
Backing up your website frequently are a few things you most likely already do.However, you'll want to have a backup of your site that's as recent as possible.
You'll be using this backup to create a copy of your site, where you can test how everything works with PHP 7 without causing any damage to your live site. If a plugin ceases to figure, as an example, you'll grasp you've got to seem for another before you upgrade your real WordPress website to PHP 7.
What I mean to say is that you need this backup for testing purposes. You can upload the backup to your local computer and test the PHP 7 there. And check everything if your website is still working.
Doing this change without knowing the outcome would result into disaster. So it is important to know first what will happen then proceed the implementation. Compare to implementation then Panic mode LOL. hehe.
How do I select Php version in cPanel?
We are going to assume that you are currently in your Cpanel of your website. Now I want you to look for PHP Version.
This is how the php version looks like in SiteGround.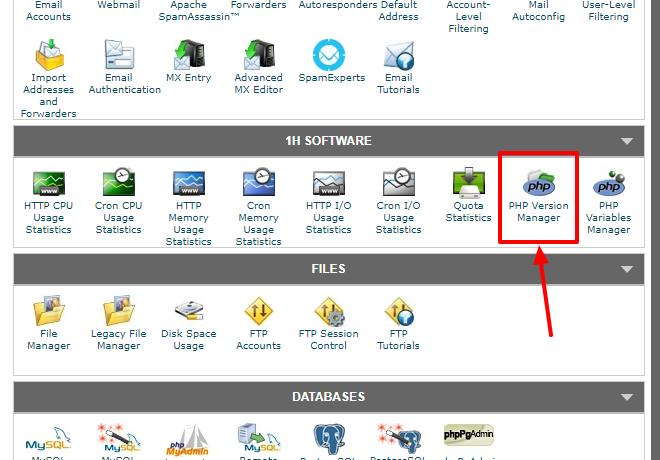 SiteGround is a really fast Hosting Provider. Learn how you can set-up your first website in SiteGround in this Resources:
How to Sign Up in SiteGround for Faster Hosting and Faster Website
After you have found this option just go ahead and click it then you will be redirected to the page where there are a lot of php version that you can choose from. Well in today's time the latest version is php 7.1 see the image below.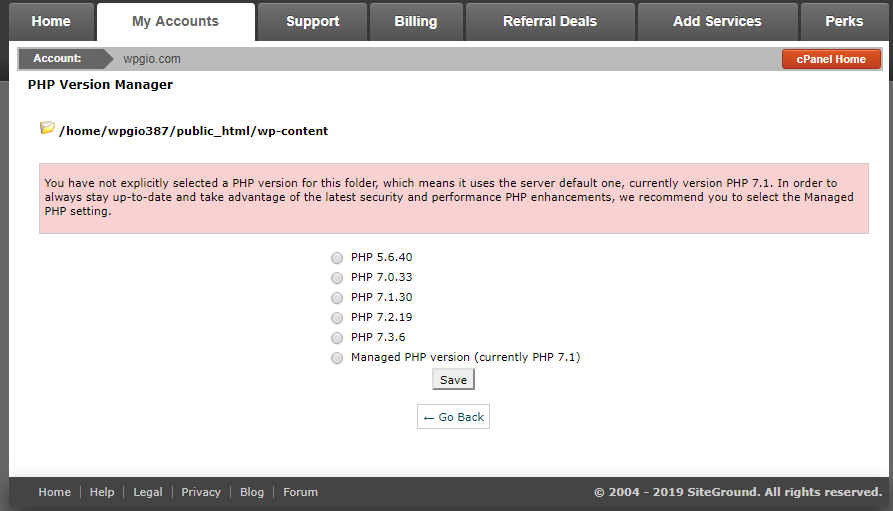 Just pick any of the version, I suggest you choose php version 7.1.30 or 7.1. And then save it and you are done.
Will upgrading PHP break my site?
PHP seven offers one in all the most important jumps in performance we've seen to this point from these specific websites. If your hosting remains running a previous version, you'll be holding your website back from operating very fast because it is an old version. The only downside is that learning the way to upgrade WordPress to PHP seven is often a bit tough.
Despite that, upgrading your site to the latest version of PHP is a smart move and one that will benefit you in a number of ways. Plus, the process isn't actually that difficult as long as you go about it safely, to ensure that the update won't break any of your site's elements. That way, you won't have to rush around fixing things afterward.
Conclusion
PHP 7 has been around for a while now, And i have to say this improves my website performance pretty much. Before I have failed in Gtmetrix and PageSpeed Insights, But now it is improved and fast. If your website still loads slowly after the upgrade then you better choose a different Host.
Check out my article in speeding websites:
How To Speed Up Your WordPress Website
Still Need Help on How to Change Php Version in Cpanel?
Well this tutorial are really simple, and if you still don't get it you can let me do this job for you. Contact me now. So we can discuss.
If you find this article very helpful, Please do share it in the people that will need it. If you share it in Social Media just give me an email I will personally like your post.
Cheers,
G