BuzzBreak is a mobile application where you will receive gifts or points that can be converted into cash. The cash can be withdrawn in Gcash which is in a very easy way. For as low as 20000 points you will earn $0.02 going to your Gcash account.
Introduction – BuzzBreak Review
Hi guys, Today I found another fun app that shocked my PayPal account. As I have said, 2000 points can be withdrawn to your account. But don't get disappointed of course.
What I will share with you are the best things to know if Buzzbreak is legit or not. Well, to answer your question it is very LEGIT.
But Before anything Else:
You can use this Code B01155494. The benefits you will receive to use this code is that you will receive 1100 points. Then it will just 900 points to go so you can withdraw in BuzzBreak.
Watch This Video on me Reviewing BuzzBreak:
I have used my phone to record it because the app is not available on the desktop.
You can download Buzzbreak Here.
You can also check out my other review on how I receive $5 in my PayPal account without any Effort.
How Buzzbreak make money?
Buzzbreak is making money by letting other companies advertise their product or services in their platform and they will get a small commission once someone will click it and purchase some products.
That is one of my theories on how they are generating money on their website. I just need to check the FAQ if they have one. Or the about page or somewhere. What I can recommend to them is just make a version for Desktop. So many users can use it in their Laptop.
What is BuzzBreak App?
Buzzbreak is a mobile app where you can read news, funny memes, and many more. But there is more, they are also giving you gifts which can be converted into money.
image phone
When you click on the gifts button down on the right side. You will receive 5 points per 30 seconds. Before it is giving more points but now it is limited to 5 points only.
Advantages and Disadvantages?
The Advantage of this App is that it has 2000 low points minimum withdrawal that can be cashout into PayPal. And You don't have to give a lot of effort to achieve this mission.
Advantages
Updated and latest news while you are earning
You can cashout via Gcash in 2 days
Very Legit and paying application
Spin the Wheel and get the chance to earn 500 pesos.
Daily Check-in and Hourly Reward
Every Wednesday, points earned will be doubled
Invite 3 friends a day you can cashout 10 php to 500 php
Earn free points thru Referral.
Free points by reading articles and watching videos
The bigger points you have the higher rank you receive
Get 20% of your referred friends points
Won't consume much of your phone's storage and ram
The application is really enjoyable specially when you are bored.
There are daily missions for you to earn more
Disavantages
Small points to gain.
Isues in cashing out.
The Disadvantage of this App is that it has a very very low cashout potential. Wanting to earn $100 in a month in this app is not achievable. Except if you have 1000 followers. LOL
That's what I said way back 2019. But now in 2020 or 2021 it is still the same but they have options for 1000 pesos to cashout
BuzzBreak 3 Things to know!
1. 20000 Minimum Points To Achieve
2. 1 peso Can be withdrawn to Gcash if you are in the philippines
3. 45000 Points per Referral
How Does Buzzbreak WORK?
Well, the first thing that you should do is to download and install the app on your phone. Just search BuzzBreak in Playstore and it will be shown at the top directly.
Let's just assume that you have signed up and used the referral Code B01155494. Well after that you can click the yellow button every 30 seconds so you will earn 16000 points.
Every hour you will have bonus points to earn which is big. Refer to the image below.
You can find these earn points in the EARN option below your screen.
The image above tells us that if you are going to share Buzzbreak then you will have 10000 points.
When you are going to read articles, watch videos then you will earn more points. You can also see that there are free points options. In here you can complete surveys or downloading games and complete tasks.
You can also connect your facebook account on the app and earn 1000 points.
Invite friends
So according to Buzzbreak you can get 20% share of your friends' earnings. The friends that you can invite are unlimited so you should invite more if you want to have more earnings.
Check In
When you are going to check in every day you will have a chance to double the rewards that you will get.
There is also a time that I did check in for 3 consecutive days and they doubled my earnings for that day.
How Much Can You Earn?
Well, you can earn as many points as you like. But then again it is very cheap.
Earning your first 30000 points will take you from 3 days to 5 days.
But the trick is that you can invite your friends or share buzzbreak and you can earn as big as 45000 points. Sounds Good right.
Invite Friends And Earn Commissions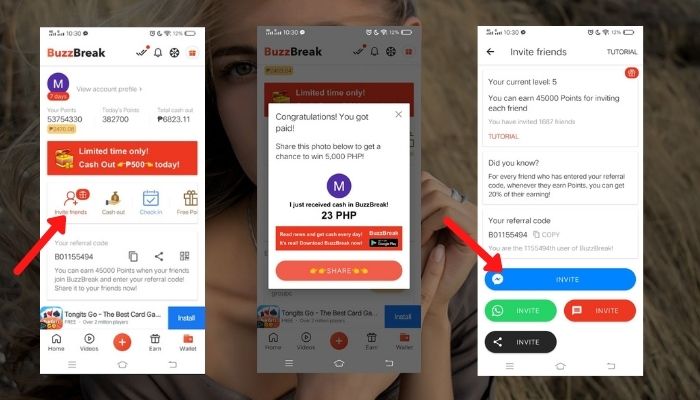 This is the part where I will tell you I am not a fan in Inviting my readers to use my referral code just to earn money. LOL.
At first, I am confused. They have level 1,2,3 and so on. Which has equivalent points to every referral? First Referral will have 900 points.
Now I am in Level 5 and my referral points is 45000. Let me know if you also received 45000 points
Currently I have 1600+ referred users and earned 53million points
CHECK OUT THIS VIDEO FOR MY LATEST UPDATE FOR BUZZBREAK REVIEW
When to Withdraw your points?
You can withdraw your points when you reach 20000 points.
But for me, I just withdraw 20000 points just to prove that they are paying via Gcash. And they did. Lucky me haha.
But this 20000 points is just equivalent to 1 peso in the Philippines. Wew!
Well If I were you, I will keep my points and withdraw it until I am satisfied with my conversions. Probably 1100+ pesos or 53.16 United States Dollar will be a good idea to withdraw the money.
Buzzbreak Payment Proof
This is my payment Proof. If you are looking for this proof then you found it. Hehehe. not really that much but it is just fun to play with it.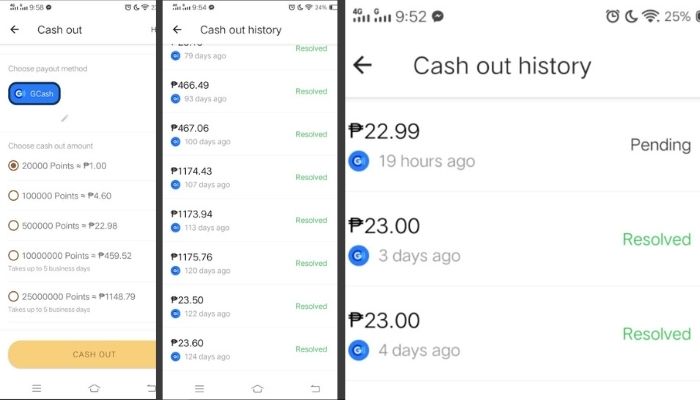 If one of you withdraw your points and didn't receive it. You can still contact their support. Just email them and they will respond to your concern.
Please do let me know in the comment section if you have withdrawn your points and how much have you received.
How to Cash Out in BuzzBreak?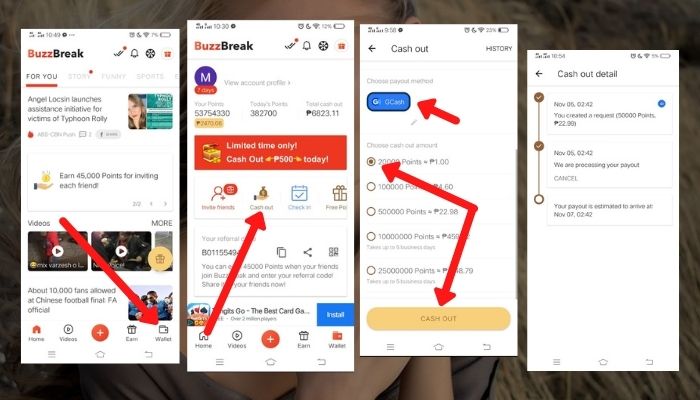 1. Go to wallet
2. Choose Cash out options
3. Normally when you are in the Philippines you will not have any options but Gcash. If it is your first time to withdraw then you can just set that up very easily.
4. Choose cash out amount options
5. Click Cash out
6. And now all is good hehe. All you have to do is wait for it to be received in your Gcash account. You will also receive a text confirmation for it.
BuzzBreak Conclusion – Should you try it?
If you have checked my Video above then you can already conclude the answer to the question. I recommend watching the second video since it is the latest.
So is Buzzbreak legit or a scam? My answer is legit. They are paying you money once you have reached the minimum points of withdrawal.
Is this App Worth Your Time?
Technically no. You will just waste a lot of time playing with this and receive a little in return. On the other hand, if you are an influencer or you have a lot of followers. Then this is a good app for you to give it a try.
At first, I doubted that this will be another scam application but after a few months of effort in inviting friends and playing the application. You will receive what you have planted a few months ago. Everything is fair here, You just need to have some effort in getting those few dollars by doing this side hustle.
Well, That's just it. Please let me know if you have any questions. Comment if you have used the referral code and let me know how many points you have received so we can help other readers.
You can also leave you referral codes below so others can use it.
Have a Great Day!
Check also this Legit Survey Site. Already Reviewed it and gaining points here. CLick the link below.
Check out my other reviews for extra income here:
21 Best Ways to Make Money Online 2021
UpVoice Review – get your $75 per year!
Plinko Master App Review – $1000 to PayPal? Legit or Scam?
ClipClaps Review – Best Paid $5 Minimum What?
Neworkom Review – Legit or Scam? Earn More Money 2020
Cointiply Review – Is Legit or Scam? (April 2020)
PrizeRebel Review – Discover Legit or Scam? (April 2020)
Cashzine App Review – Legit or Scam? 2020 Be Aware
Lucky Money App Review – Legit or Scam? 2020 Beware