SEO Packages: Services and Pricing – Boost Your Traffic and Sales to the Next Level!
Do you have hundreds of site visitors, but most of them are not converting into customers or leads? Need to improve the traffic of your website in search engines? Want to outrank your competition? Search engine optimization (SEO) and a custom SEO package from Wpgio are the answer.
My name is Giovanni, and this is Wpgio Online Services, which serves business owners to help them increase their traffic to their website and get more sales. Every month we offer three free SEO Audits that can help business owners determine the problem on their site that needs help. Click the button below and join the waiting list for free SEO audit every month.
Wpgio SEO Packages
See what's included in your monthly SEO package:
We have customized the tasks that are included in the Package. You can choose the best for your needs. You can always contact me anytime to discuss which will be the best Package for you, or we will customize it more to fit your budget. Get your Free SEO Audit now. Just click here.
Join the waiting list
The Monthly SEO package is available to purchase for three only each month. I can only take on three new businesses each month, and the next time this SEO package becomes available is on the 3rd day of the month. Would you please sign up to get notified once the SEO Monthly becomes available?
Check out what Clients are saying about Wpgio
Testimonials in Freelancer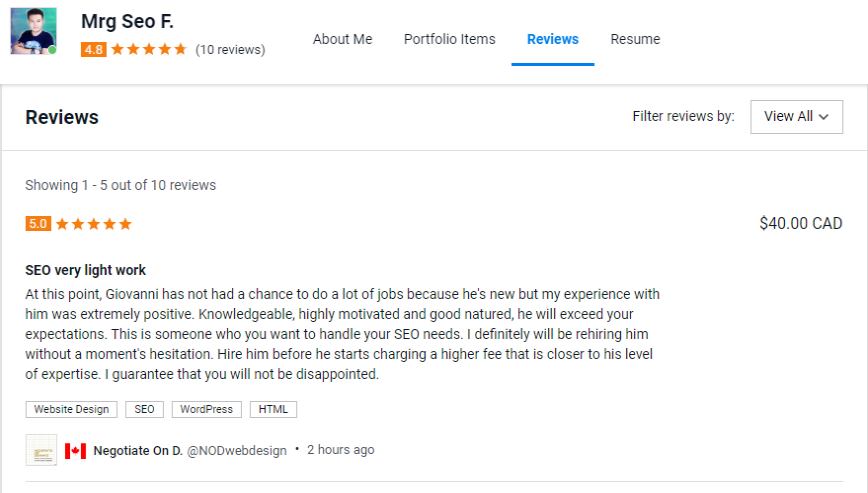 Frequent Asked Questions
Q. Will I get phone or email communication with the package?
A. As this is a fixed price budget package; there is no phone and limited email communication. We tend to spend all the time available to work on optimizing the website. However, you will receive regular updates on progress.
Q. How long before I see any improvements?
A. As mentioned above you should see some improvements in the first month. But improvements will continue ongoing for different keywords and pages while the Package is running.
Q. I have a list of keywords I want you to target, can you get No 1 position for all of them?
A. We are more than happy to include any keywords you have for the optimization but can guarantee search engine positions. The Budget Package is focused on improving keywords you are currently placed in the search engines for, rather than ones that have no ranking, although these will most likely gain ranking in time.
Q. How do you take the payments?
A. The payment of 50 GBP is take using a PayPal subscription. You can stop this subscription at any time.
Q. I live outside the UK can I still use the service?
Yes absolutely. But at present, we can only work in the English language.
Q. What will you need to start working in my site?
A. To start the initial work, we'll need your web address (we'll collect it during the signup). We'll then get on with the initial keyword research and set up the search term positioning tool.
At some point, we'll need access to your website editor to make the small changes to page text, headings, and meta tags that will improve the page rankings in the search engines.
Q. What SEO work does the Package cover and what doesn't it cover?
A. The Package covers keyword research on up to 100 words, then on-page optimization work such as editing text to include keywords, meta tag editing, and reworking page headings as needed. Not covered are telephone/Skype consultations, meetings, strategy, and planning.
Q. How long will I need to keep the Package going?
A. It is designed as an ongoing Package, and the work we do should bring in far more business than the £50 a month cost, but most of our clients see positive results within the first month, and certainly within two or three months, this continues in the subsequent months in the future. This is borne out by the meager drop-out rate, with 95% of the businesses staying on the Package for more than three months.
Q. I have a brand new website that isn't on Google at all yet, will this package help me?
A. Yes. We can just as easily help with a new website, although it may take longer to achieve higher rankings than a site already established on the search engines.