From the word itself "Cashy" it means money. If you are here looking for answers for "is cashy messenger app legit?" then you landed in the right place.
I am really confused about other people seeing this app as a scam. Well here is my answer to that confusion.
At the end of this article, you will know if it is worthy of your time or not.
What is Cashy?
This is a messenger solving mathematics wherein even a 3rd-grade pupil can play. The solving problems only involve addition, subtraction, and multiplication.
Cashy is famous in the Philippines.
Whenever I went to the bedroom and ready to sleep. I have this feeling that my wife is having an affair in messenger because it is always having this beeping sound. The sound of the phone if someone is sending a message.
So at the time when my wife is sleeping, I sneak right in and pulled her hone and check the messenger app. It was so funny, I found out that it was a cashy app that is sending different mathematical questions and my wife answers them perfectly.
Is Cashy a Robot?
Yes, it is a Facebook Messenger Robot where it will loop a random of questions and if answered correctly, you will have points.
These points will then become or converted into money.
Where can I withdraw the money?
When the points that you have will reach 300 points. It can be converted into 300 pesos. So 1 point is equivalent to 1 peso. Not bad right.
I really like how this girl explains how Cashy works. Check it out
Is there a Membership Fee?
So if you're asking this question. What I did is ask my wife if there is a membership fee.
She told me there is and it will cost you 110 pesos in joining this extra income.
Now I have to warn you that it is not a one-night millionaire scam thing. It has a very low membership fee and you can expect the outcome will also be not that high.
Ways to Earn!
Solve addition – 0.02 per correct answer, No Ban, No Interval.
Solve subtraction – 0.03 per correct answer, No Ban, No Interval.
Solve multiplication – 0.04 per correct answer, No Ban, No Interval.
Task and offers – 40 – 50 pesos per task
Refer friends – 40 pesos
Indirect refer – 10 pesos
Steps on how to join Cashy
Search "Cashy Shop" on Messenger
Click Get started.
Activate Now
Enter Referral Code: 2440259176031144
After entering the referral code, if you used the referral code above. You must send a message to -> Carmela Dantes (wife).
Now keep in mind that you must send a message to Carmela (wife) because she will send you the mode of payment.
The mode of payment means that it is where you will send the membership fee and so on.
History of Cashy
This is the part wherein I will tell you that during the past months it was blocked or banned by Facebook because a lot of haters reported the app to be a scam.
They reported it to be a scam because we are people. And most people have no satisfaction. Leaving the table full of foods to be empty and still crave more.
Then the owner gets so depressed and created another app which is "Cashy Shop".
Conclusion:
Cashy pays so low, but that doesn't count to be a scam and it is still an extra income. In which most of the mothers at home love to do. Therefore, I conclude that Cashy is not a scam.
As long as it pays. My review will always be not a scam.
Check the images here for payouts through GCASH and Palawan only.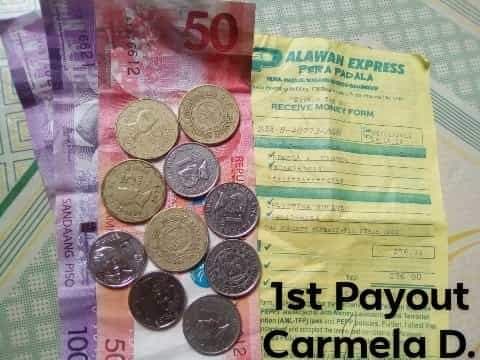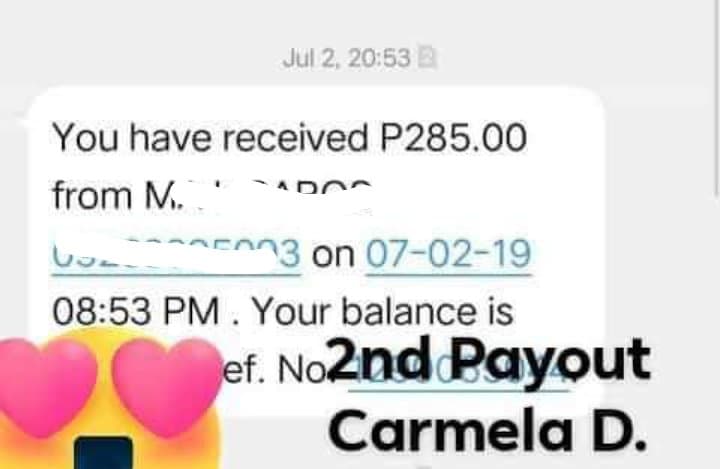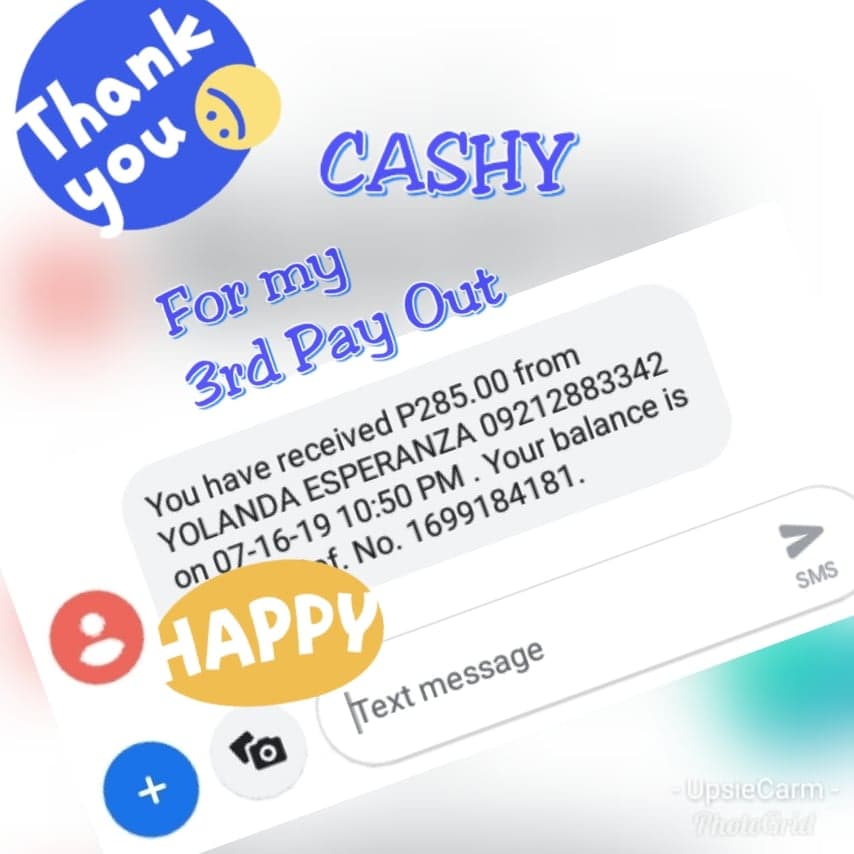 If you like my article you can share it on social media. I will be so happy to like it. Thanks!