Well first of all this is not a sponsored blog, that I will introduced to you. For me if I have ahrefs or other tools that is paid then I will no longer need this free tool.
But!!! What if I will search the local rankings on a certain place then you should check "WHAT'S MY SERP | SERP CHECKER SITE".
According to them:
WhatsMySerp's free SERP checker allows you to check the top 100 Google search results for multiple keywords. You can use it to Analyze SERPs and to check your website position. It's free, and available online – so no download required.
Google search results sometimes vary depending on your geo-location, device type (Mobile or Desktop), and Google TLD (e.g. google.ca).
This simply means that it is a free tool to use. There are also other free tools out there that can help you track your keywords SERP results. One of them is Ubersuggest.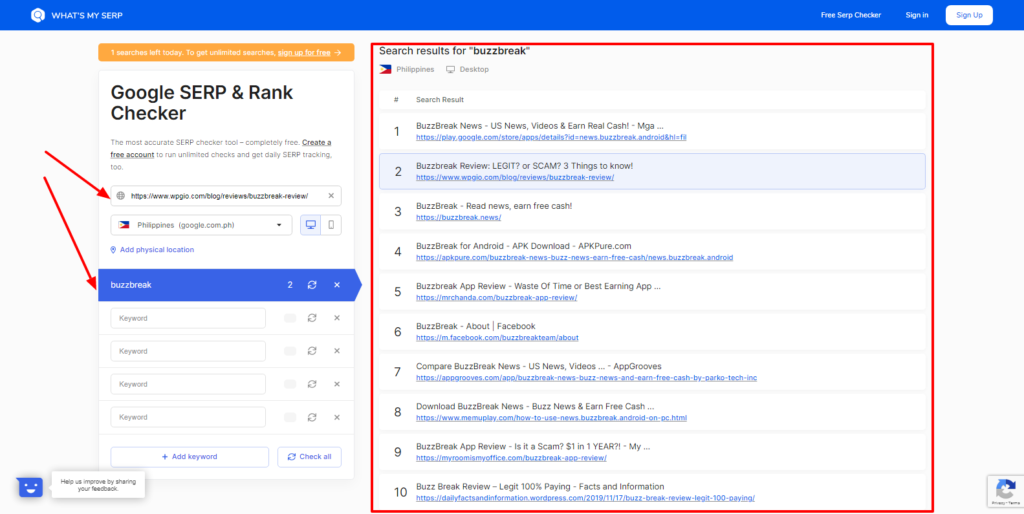 How to use it?
It is really simple to use this website.
All you have to do is copy the URL of your website that needs to be tracked. Then enter the keyword on the box bellow then hit enter again.
Then you will see the results in the right corner.
You can also change the location to where ever you wish. For example, if you want the results to show from the USA then you should select the USA in the location then you will have your results.
Really easy right?
Google Search Rank Tracking Tool – What do you mean?
This means that when you are tracking your keyword rankings. Then you need tools specially if you are tracking not from your location.
You see Google doesn't show exactly the rankings the same on different locations. This means that when you are in the Philippines then the results are customized according to the Philippines and you can't see the same results in the USA.
So all you need is a tool that can help you show the SERP's on a specific location.
Now this tool comes in handy at this situation.
Watch Short Video About WhatsMySerp
Video Uploading Please wait!
Where to find the SERP Tracking tool in AHREFS?
Well if you have an AHREFs account it is really simple to find. By following this steps:

Please refer on the image above.
First step is getting your desired website URL.
Then Selecting the location or the flag.
After the you should click the organic keywords.
Select the keyword that you want to track then on the right side click SERP.
After that you will see at the bottom the search results of your keyword.
Really, Really simple right.
Does Ubersuggest have Search Tracking tool? Where to find?
As I have mentioned, Ubersuggest is also a free tool.
Lets try to check if they have the same tool.
Please refer to the image below
In Ubersuggest, they have a different style.
For example you have a keyword that you want to track in the SERP.
Then what you can do is enter the keyword on the search bar.
Once you have entered the keyword you will see in the right side that there are a lot of search results in GOOGLE.
For me they have different style but then again you will still get what you want with this free tools.
Conclusion
I always love free tools, So for this website. I definitely give it a 5 stars rating. Awesome.
For more information about SEO please do check out my blogs about it.
If you have any questions, Feel free to comment below. Don't forget to share and have a nice day.
Cheers,
G