Are you looking for an SEO Services in Bayawan City. Well you come in the right place. My name is Giovanni or you can call me mister G for short. I've been doing website development and also search engine optimization 2 dozens of companies already.
Actually Bayawan SEO Services is one of my targeted keywords for this custom post or you can call it a blog. Right at this moment when you check google and you type in your keyword just like Bayawan SEO Services you will see something like this (check this image below)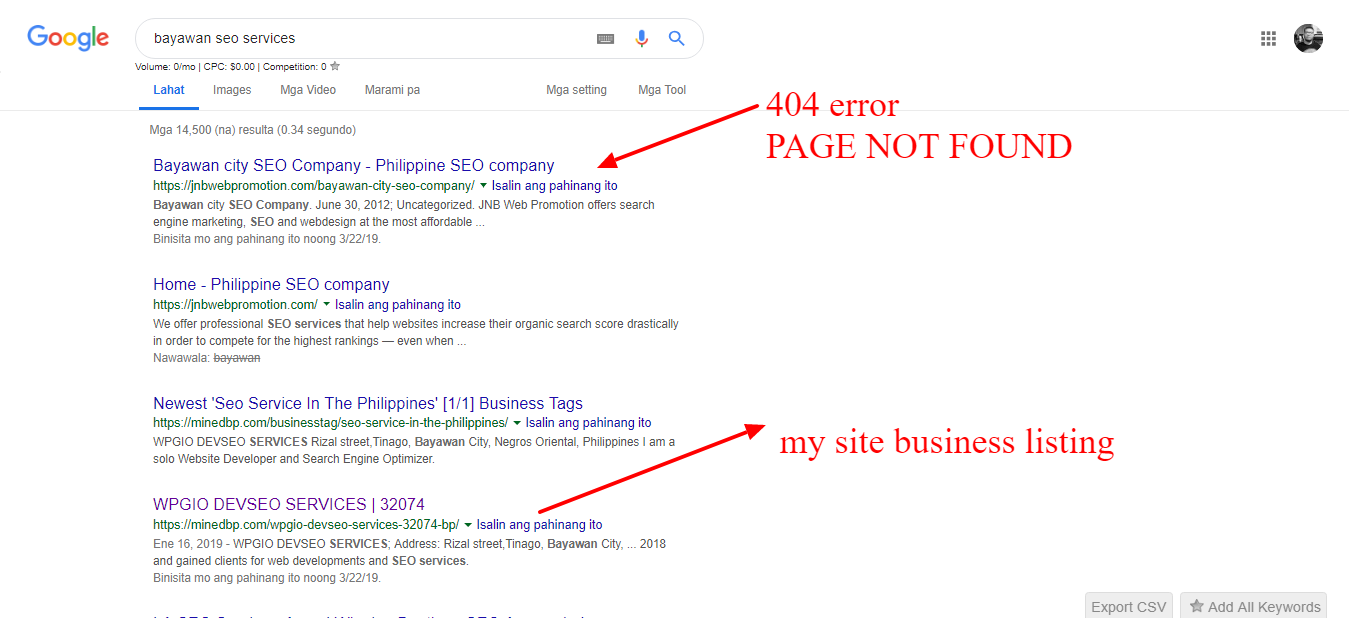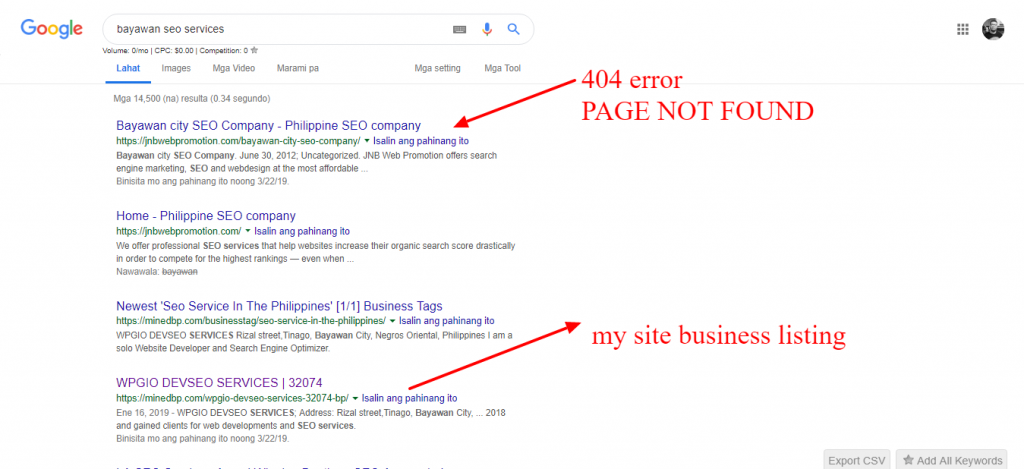 Are you ready to Learn how to do SEO? Check out my tutorial for Beginners in – How to do SEO on your Website | Beginners Guide.
No Competition for SEO Services in Bayawan City
Now that is a very easy peasy competition right there. Where you have a 404 error page at the top one and no website is having a keyword for my 1st all services.
And you are maybe wondering why I am for that certain keyword. You know here's the thing, I have this vision that someday when you create a certain demand in a community then somebody will have to supply it. And that somebody will be Me – WPGIO ONLINE SERVICES.
This certain type of technique is like having a stone on your right hand and throwing it in the air. You don't know who you are going to hit but you know the fact that piece of stone will be going to hit the ground.
Do Bayawanons Need SEO?
Do we need SEO? Or does Bayawanon's need SEO Services? Well, that is a very good question, and I will answer it directly. The truth is YES.
People living in Bayawan City, has the goal to success but let say in terms of internet marketing they are left behind. So I have to do something, something like letting people know that I have these services that can help them bring their business to success.
There are lots of businesses growing each and every day. Some died at an early age, well some are struggling.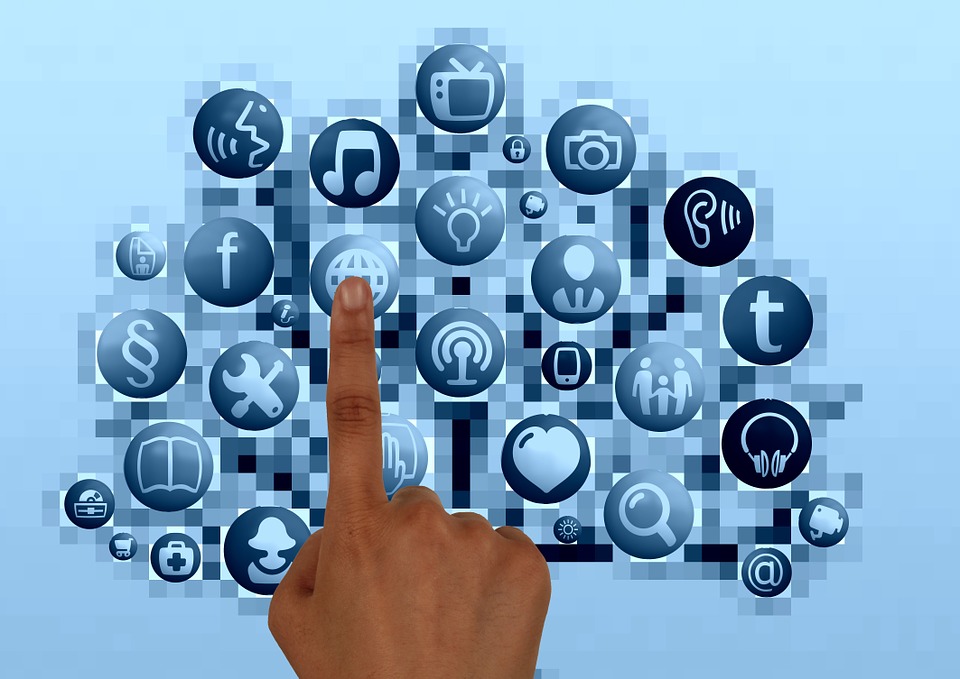 How can WPGIO help in Websites and SEO?
The first thing that we will be going to audit is if you have a website and it is not found in search results. Doing this SEO audit on your website will take two hours maximum. After that, we now have the things that we need to fix on your website. Most of the SEO pro's call this as technical issues.
Now if you have no website, then the first thing that we are going to do is to create a mockup design, purchase a hosting domain and if you like the mockup design then we'll build the website that you can be proud of.
After having the website, now we are in the next step to have content up and running. And we will do on-page SEO optimization.
Need to have a website consultation? Send me a message on facebook.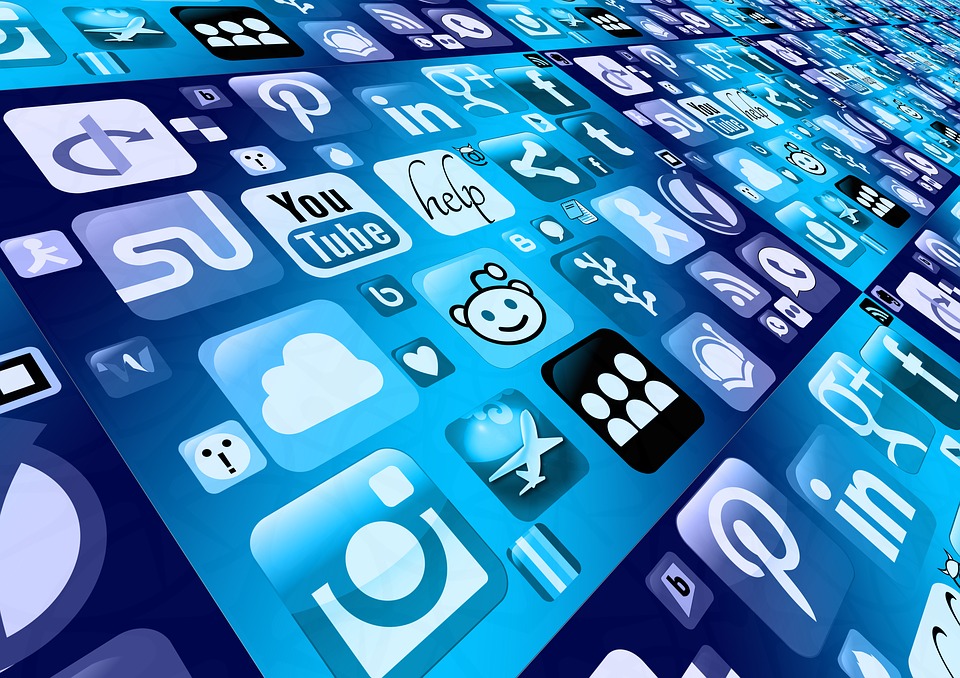 Do we need BACKLINKS?
Backlinks are a ranking factor in the search engine, especially in Google. Now you are maybe wondering how backlinks will going to help rank your website. Well, that is very simple, it will help you have high domain authority, page authority, trust flow and many more.
Backlinks come from different types, some have backlinks coming from a private blog network, comments backlinks, and social media backlinks. Now social media backlinks are also called social signals. Which is really helpful because when someone found your link in social media and they click it that will add traffic to your website. Now if your website is a money site then that is a success.
Bayawan SEO Services, How can we get in touch?
Well if you're ready to bring your business to the next level click the link below and book your appointment with Mr.G