"ClipClaps Review"
Hello, and we are going to review today Clipclaps app which can be downloaded in App store or Playstore.
In this review we will learn how to earn $5 and withdraw it to PayPal. This app is really entertaining because the videos is really funny.
You will also learn how you can redeem $1 just by signing up for free.
Without any further adue lets dive right in to the app.
Redeem this code to earn $1 now code: 5719562203
What is ClipClaps?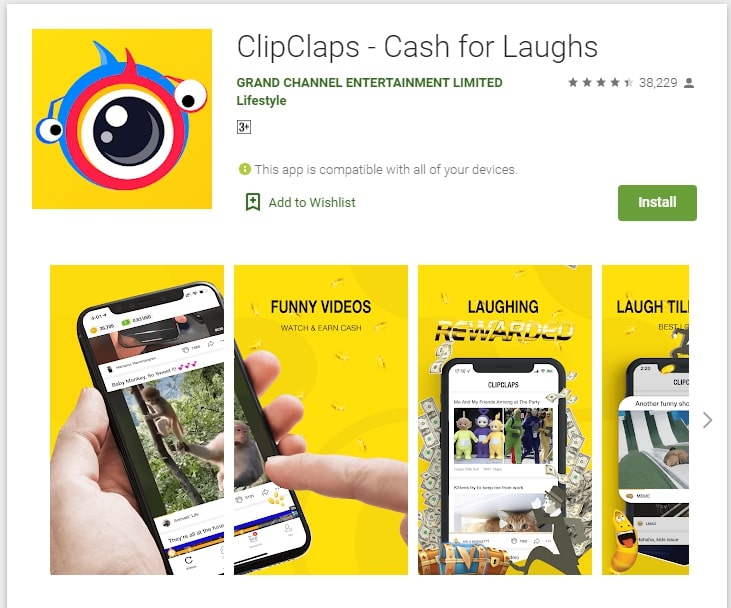 ClipClaps is a free app for Android and iOS devices and can be found at the app store or android play store. You can download and install this app if you are 18 years of age or older.
The app is created by Grand Channel Entertainment Limited. ClipClaps values your time. Fill your day with laughter with their viral videos, and stay entertained with their in-app games. All of this WITHOUT AD interruptions that we all know and hate. And the cherry-on-top? YOU GET PAID!!!
This is an entertaining app that helps you earn extra income while having fun on your mobile device. You'll have a lot of entertainment watching the funniest videos while you earn money. This can take a lot of time if you enjoyed it.
The Clipclaps app also has news events that will keep you up to date on what is happening around you. Just don't relly on the news in this app, Go turn on your TV or look for a better and reliable website that the news can be trusted.
But what keeps people coming back and spending hours are the trending videos (which is really funny) that keep them laughing and entertained. We can tell that they are funny because we are watching the videos and it is a stress reliever. The more you watch, the more scratches and rewards you'll earn. You can lose track of time watching the videos which is uploaded every day.
Redeem this code to earn $1 now code: 5719562203
ClipClaps Review – Download Link Here:
https://play.google.com/store/apps/details?id=com.sanhe.clipclaps&hl=en
Advantages
– We pay you for your time.
– NO Ads !!!!! (YOU HEARD THAT RIGHT, ZERO ADS)
– Videos that will make you laugh, tears of joy GUARANTEED!
– They have surprises and REWARDS for you every single day!
– Exciting daily activities!
– In-app games that will get you hooked!
Disadvantages
Lose track of time because the app is so adicting
You will laugh all day hahah
How Does ClipClaps Work?
This app is available for Android devices and iOS devices and will need to be downloaded from the App Store or Playstore.
You'll need to be 18 years of age or older to download and install this app on your mobile device.
The app has fixed the issues with the being paid through PayPal. You can register through your email, phone, or Facebook signup options.
Once your account has been set up the rest is easy. You just start to watch all the latest trending videos. Upon scrolling you will earn rewards and these rewards can be coins or in cash. You can also convert coins into cash.
You'll earn Clipclaps coins during the time you watch the videos.
Furthermore, the app gives you different bonuses while watching videos. You can earn reward boxes and once you will open them your account will have coins or cash.
CLIPCLAPS REVIEW – Watch the Video Here…
You can also add me so we will be friends in Clipclaps here
Just scan the QR Code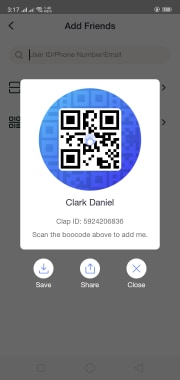 How to get started?
Follow Steps for you to get started now:
1. Search 'CLIPCLAPS' sa PLAYSTORE OR GOOGLE
2. DOWNLOAD/INSTALL the App
3. Sign Up using Facebook or Mobile Number.
4. After you Signed up Click "REWARDS" at the bottom.
5. After that click Rewards and then Click "REDEEM" at the top right side.
6. 54KY8AF8 Add this code in the REDEEM BOX so you can receive $1
7. You can Easily Withdraw
8. No Redeem Code, No 1$.
REDEEM CODE 5719562203
Happy Earnings!
How about the Referral System?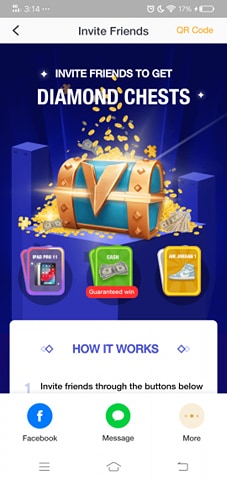 The referral is really easy.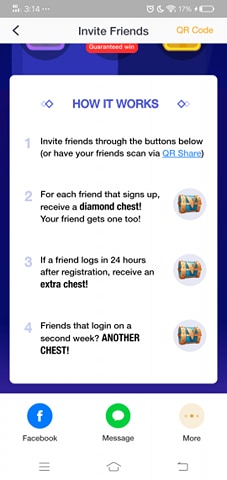 Redeem this code to earn $1 now code: 5719562203
When you are going to redeem the code you will have $1 and I will have coins. It's a win win situation right.
In my opinion you can earn more by watching the videos.
Payment Proof for ClipClaps Review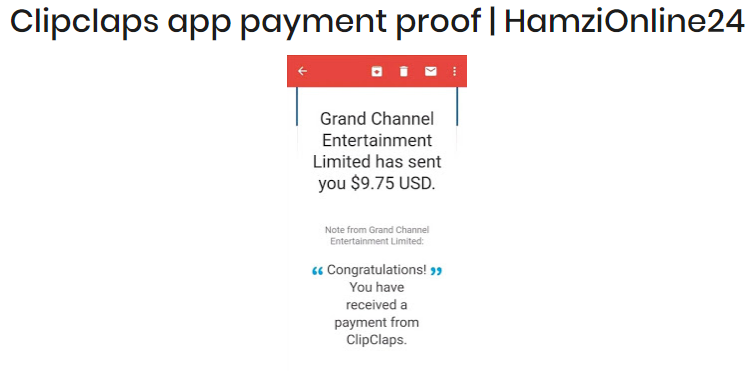 Shoutout to HamziOnline24.
Which receive almost $10 payment on his Paypal account.
We will also update this article here. So we can show you if the app really pays us. SO you will not waste your time playing or enjoying this app and your efforts will surely be payed.
The requirements to withdraw your money is Paypal. Take a second to create your Paypal account. And if you have questions on how to withdraw paypal cash. Then I suggest to search it in Youtube.
Normally when you are going to withdraw money on your Paypal account you need to have a bank account. I recommend BDO or RCBC. In that way after the creation of your bank account they will provide you ATM Card.
When you will go to the ATM machine you will use that card to withdraw your cash.
Redeem this code to earn $1 now code: 5719562203
Conclusion of ClipClaps Review
Based on my experience and the knowledge that I gathered and witness on the other articles. This app is really paying if you will reach the minimum withdraw.
Once you reach the minimum withdraw you can withdraw your money to Paypal and it will be processed by the system.
Do I recommend this?
My answer to that Question is "YES". This is a legit App and paying. 100% recommended.
But then again you have the power to decide to download and enjoy the application.
Thank you so much for reading this article and again feel free to share to your friends. Lets go together and earn more extra income. If you have questions comment them below and I will answer them personally.
Check out other reviews that can earn more money:
Cheers,
G