What are the best SEO Plugins for WordPress? Well that's a very good question. And today I will introduce to you 2 best seo plugins that will help your website in terms of SEO.
You see when you create a post in your website this post's or pages needs some meta text's. What is Meta text's? It is a group of details that the search engine reads and it will be used to display in the search results. Just like Meta titles, meta description and meta keywords.
So having a plugin that will give you options to insert this in your WordPress site will be amazing. You will not going to add it by using code. You will simply going to add the text's on the assigned boxes.
So the plugins that I am talking about is:
Yoast SEO Plugin
Yoast is a very popular WordPress SEO plugin that works all the time. They have a free version and a paid version. Well in my experience Free version of yoast is just fine.
You can download them in here https://wordpress.org/plugins/wordpress-seo/.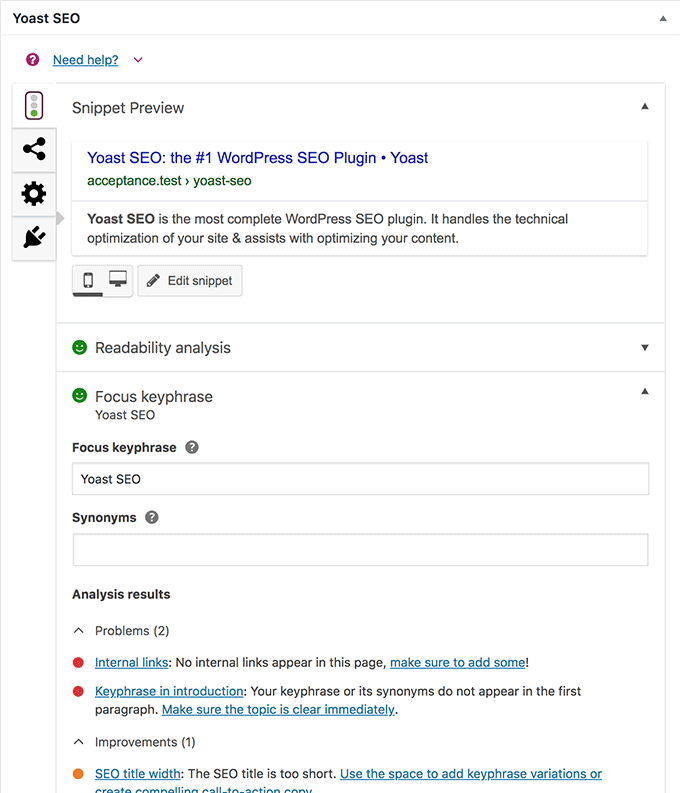 What I like about yoast is that it has options or analysis results that helps you identify the things that needed to be fixed. Just like Internal Linking and keyphrase in introduction and many more.
Once you fix them it will be mark as green. Very easy right?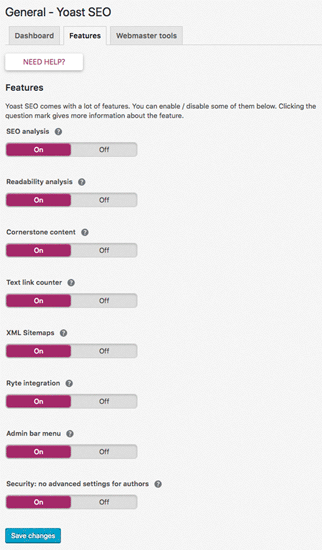 Ok so Yoast has this settings also which you need to turn on. Or if you have check the settings in the features I think they are in default to be turned on.
The most important in this settings is the XML Sitemaps. Because you will have an XML sitemap generated by yoast once you install this plugin.
What to do with XML Sitemaps?
Well you need this to be submitted in Google Search Console so that your site will be indexed by search engines.
See my tutorial on how to get listed in search engines. And you will learn that this Sitemap really is needed for your site.
Some Search engines dont need this. But Google and Bing need a Sitemap for robots to crawl. And this is a good practice.
All in One SEO Pack
Number 2 on the list is we have All in one SEO Pack, which started in year 2007. Wow. This is really the first SEO Plugin i think.
This is also the one that I used in my website. You see I like to use this SEO plugin because I am comfortable with it.
You can download the plugin here: https://wordpress.org/plugins/all-in-one-seo-pack/ or you can just login to your website go to plugins then add new and search for all in one SEO pack.
To further explain how to setup this plugin properly is by watching this video tutorial:
You will enjoy this video. It will teach you a lot of this SEO plugin for WordPress. And Just to add the settings.
Just to add in the settings. This are my settings for XML sitemap. So you see my sitemap only contains Pages and Posts. I don't need the Media / attachment urls.
If you have Media attachments on your sitemap that will be considered as Low Quality content so you need to remove it. You probably will have a thousand of URLS in your sitemap if you have a lot of images uploaded.
What is Media Attachments?
Well WordPress will going to have the option to upload images right. Now in the backend it will have the images and a URL attached to it. That is the simplest way to explain it.
And the most important thing to be indexed is the Post's and the Pages.
Well that's just about it guys,
The 2 best SEO plugins for WordPress.
Let me know in the comments which plugin do you choose? Yoast? or All in one SEO pack?

Cheers,
Mr.G