Are you looking for an SEO AUDIT CHECKLIST? Well, you just landed to the best checklist for SEO audit in your entire life! (Laughing)
Well I am starting out to create the long checklist when I do my free SEO Audit for my clients websites. Guess what?
Are you new to Search Engine Optimization? You should check my tutorial for Beginners to do SEO on a Website.
Note: This Checklist is 80% for WordPress SEO Audit, I am still editing this to be a good article. Feel free to bookmark this. (Editing Mode)
SEO AUDIT CHECKLIST On Page
When you are doing an SEO audit on a website. You should check different parts of it. Here you will see how i audit a website or page.
If you are a Beginner then you should check out my article on:
–Google SEO Tutorial For Beginners | How to SEO a Website Step by Step
–How to Submit your Website to Search Engine like Google, Yahoo, and Bing
1. Site redirects to perferred version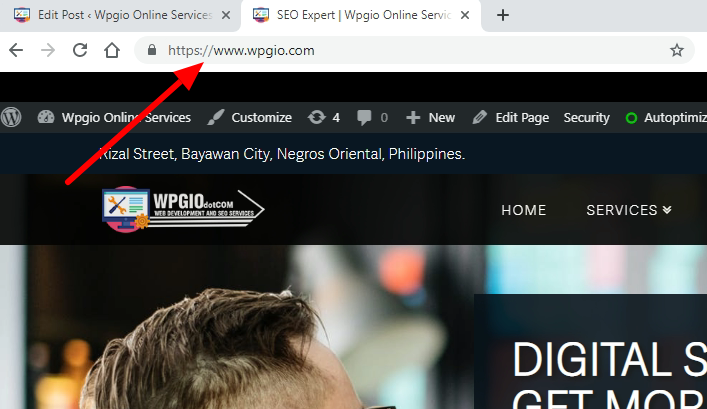 This is the about the url, for example "www.wpgio.com" when you search it in the address bar and enter wpgio.com it should redirect to www.wpgio.com.
2. Favicon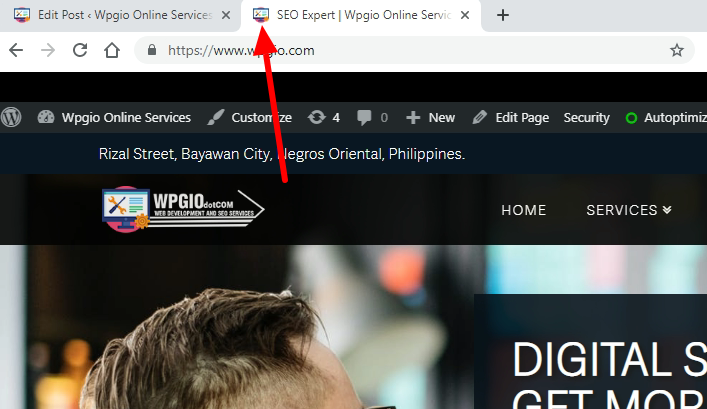 This is the small image at the top left of the title tab of your browser.
3. Robots.txt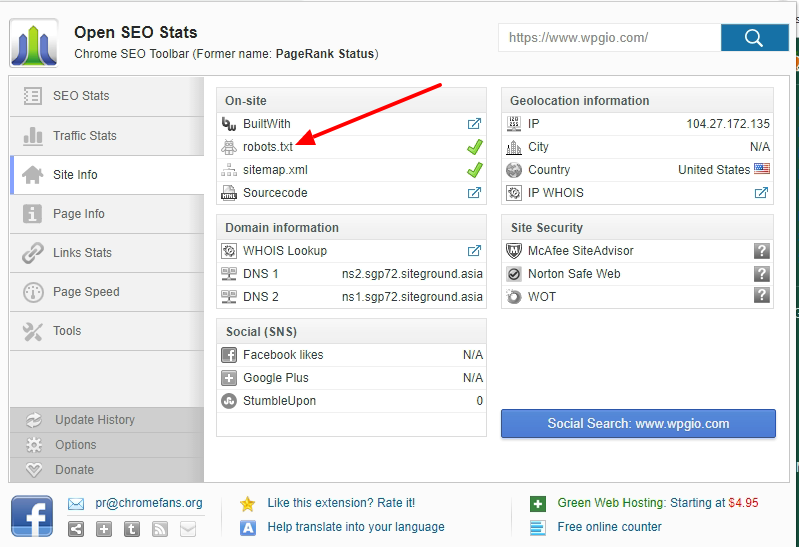 The robots.txt is something you should check in the website. How to check? Well you can install Open SEO Stats a Chrome Extenstion.
You can go to Chome extension if you want to install this and locate robots.txt.
You can also manually check the robots.txt by simply going to your address bar and then type in your websiteaddress.com/robots.txt
4. Sitemap Included in Robots.txt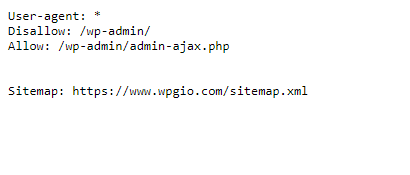 When we are checking robots.txt we should consider adding the sitemap.xml into this file. So that robots will also crawl and will not missed the sitemap.xml.
5. Sitemap.xml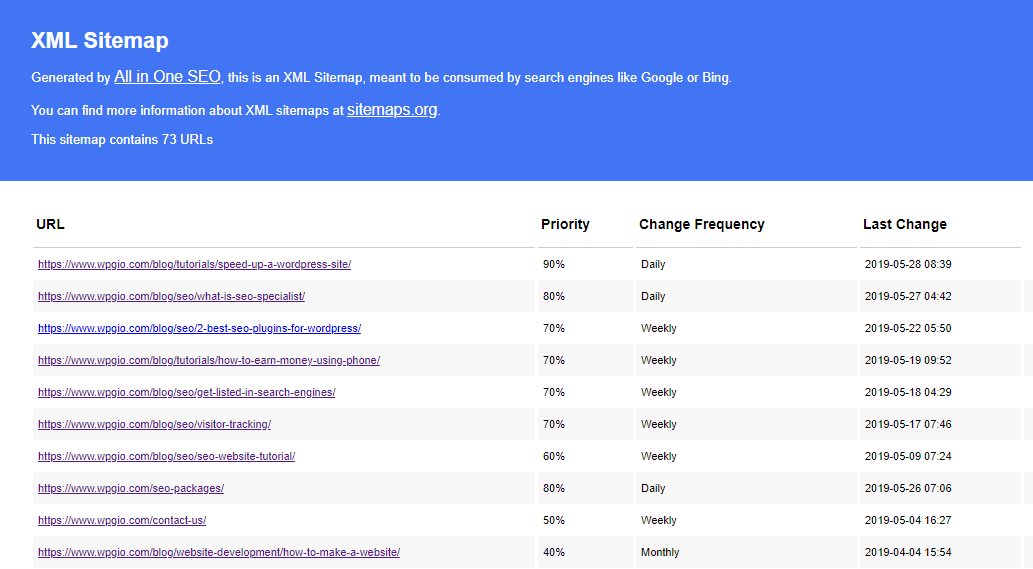 You should check the sitemap.xml. In order for you to know how to check this you can again check in Open SEO Stats and go to site info. You will see that there is sitemap.xml under robots.txt.
Just click the sitemap.xml and it will redirect you to its page.
6. HTML Sitemap in Footer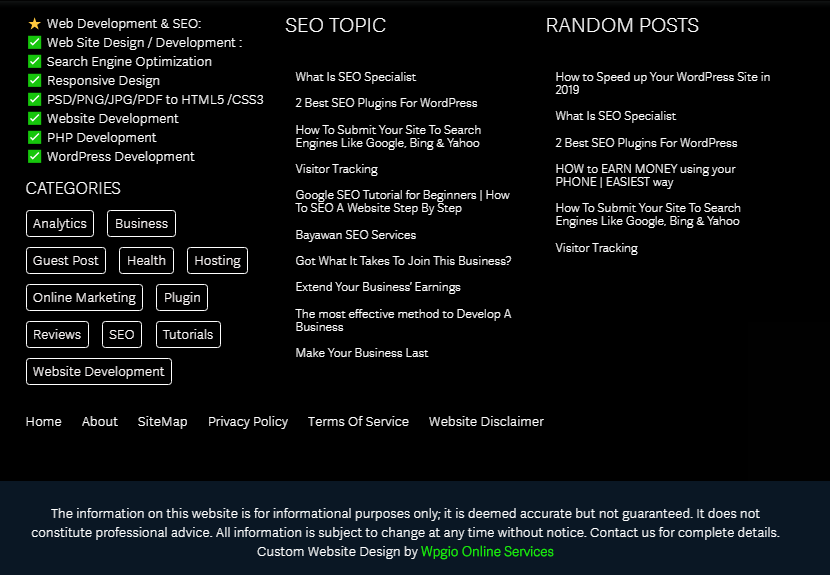 There are two meanings of sitemap in footer. The first meaning of this is you will create a custom page which includes all the links to your posts or pages. You can customize them based on categories or tags, Simply your choice.
The second meaning is you can display in the footer the links to your categories or should we say a mini sitemap containing the links to different tags, categories or posts that you have.
This is for the user so they can navigate to pages or post quickly. The sitemap.xml is for the robots to crawl and the sitemap in footer is for users to click.
7. About Page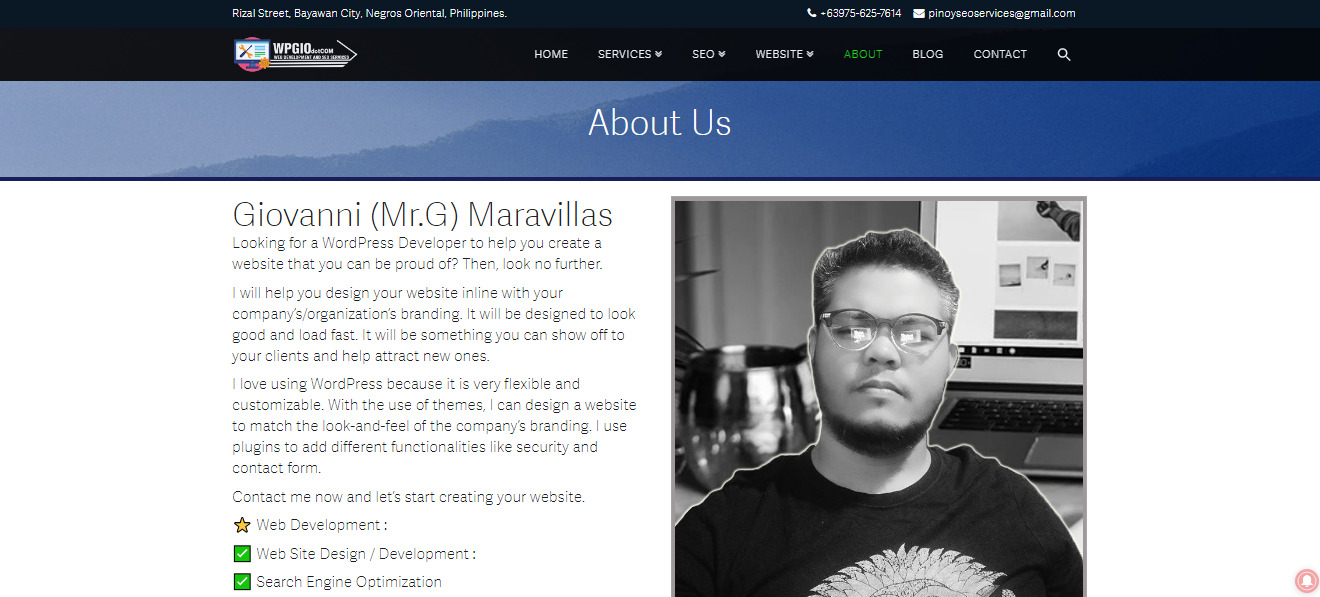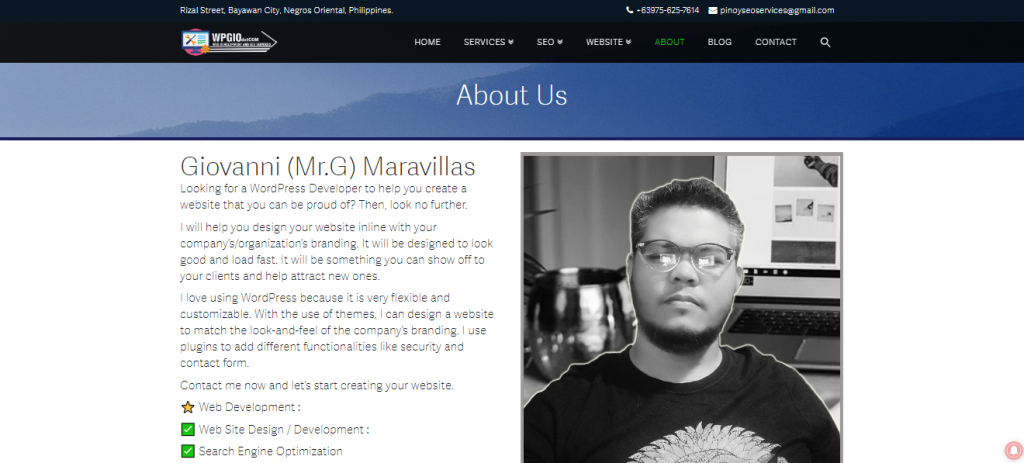 The information of the website is really important. For example you have a google my business account. So google loves if you use the information through out your branding.
People need to know who is the owner of the website. What's the history of the website. What is the experience with all the years that passed.
If the website has no About page? Then let the Owner know that it is a must to create an about page.
8. Contact Page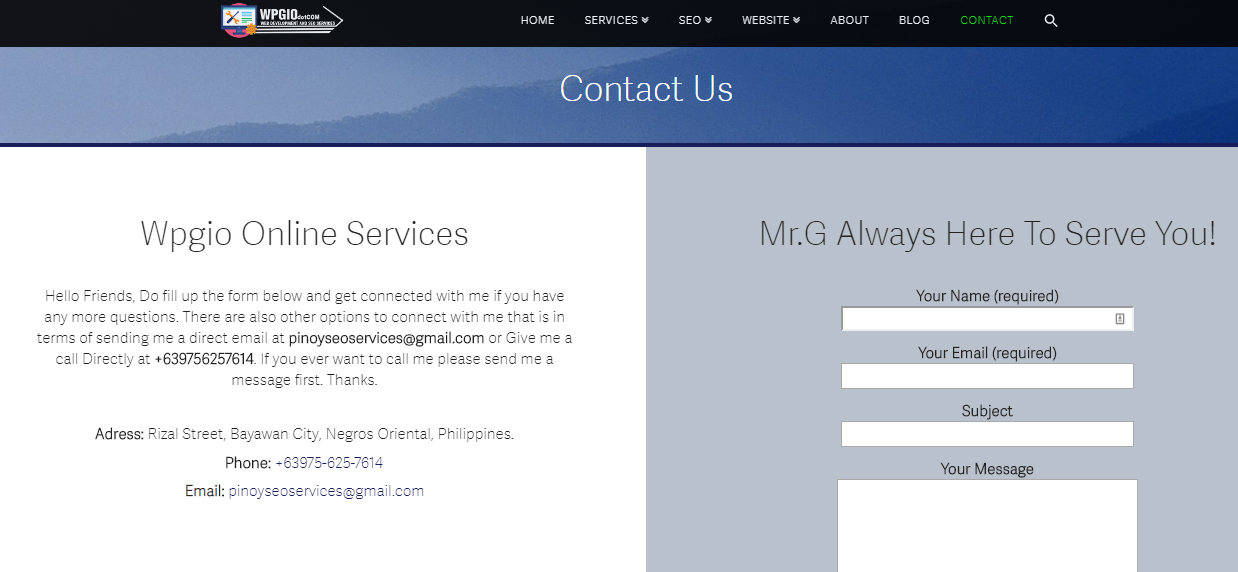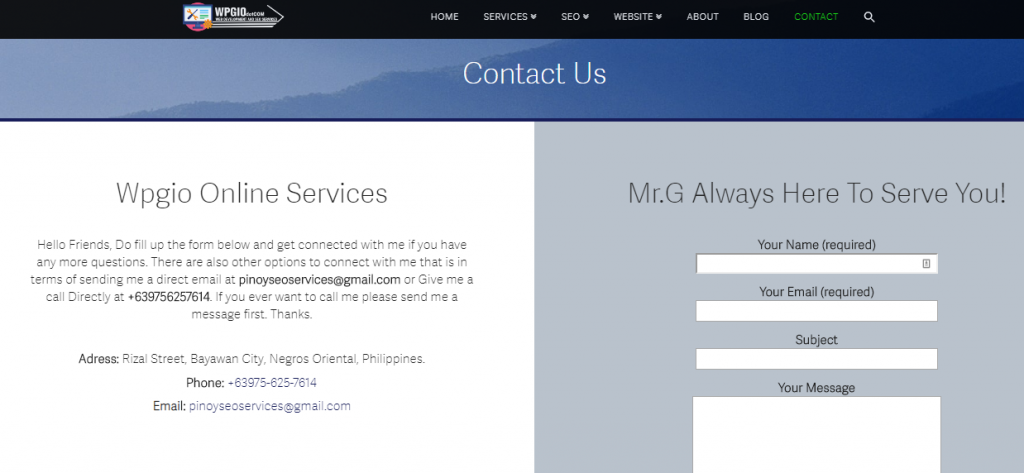 Things to check in the contact page is that it needs to have the Owners Name, Phone number and Address. It should be the same information of the Google my Business account.
On this contact page you should also include a message form so users can send message if they are having problem or in need of help.
9. Terms of Service Page
You can basically find this terms of service in the footer. Once you check it then you are good to go. This is needed for the users to know what are the terms of service on your website.
10. Privacy Policy Page
The privacy policy is the same as the terms of service, Once you check it then you are good to go. The privacy policy of the website is needed for the users to know the websites privacy policy.
11. Are Free Lead Magnets Being Used In Blog Posts?
The free lead magnets in the blog post are something like free SEO audit call to action, free ebook, or something giveaways. It is a free service or product that you are just giving away so they will signup to your newsletter or become a subscriber.
Lets take an example about health or foods website. In his or her blog post, he/ she is giving away a free Recipe Ebook but before giving away this Ebook the user must signup to the newsletter first.
12. Unsecure Content
This is the part where you will check the URL of the website if it is secure. Once the SSL is installed it needs to be setup properly.
To know and check if your website is fully secure then you can run a search in the WhyNoPadlock Website. It is a free tool to check if your not sure that the website is secure.
Google Checks
1. Is Google Analytics Installed?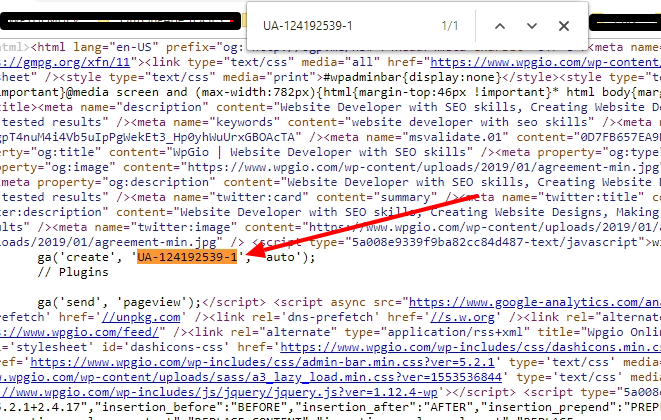 After checking the basics we should check if Google analytics is installed. You can ask the client or the website owner if he/she installed google analytics and you should have access so you can check the data of the website.
To check this you can find the Tracking ID in the website. It is like this UA-xxxxxxxx-x where the letter x stands for the number, then go to the homepage and right click then view page source. Once you found it, it is good to go.
2. GA duplication check
Sometimes the owner installed two google analytics tracking ID. Be sure it has only one.
3. Is Search Console setup?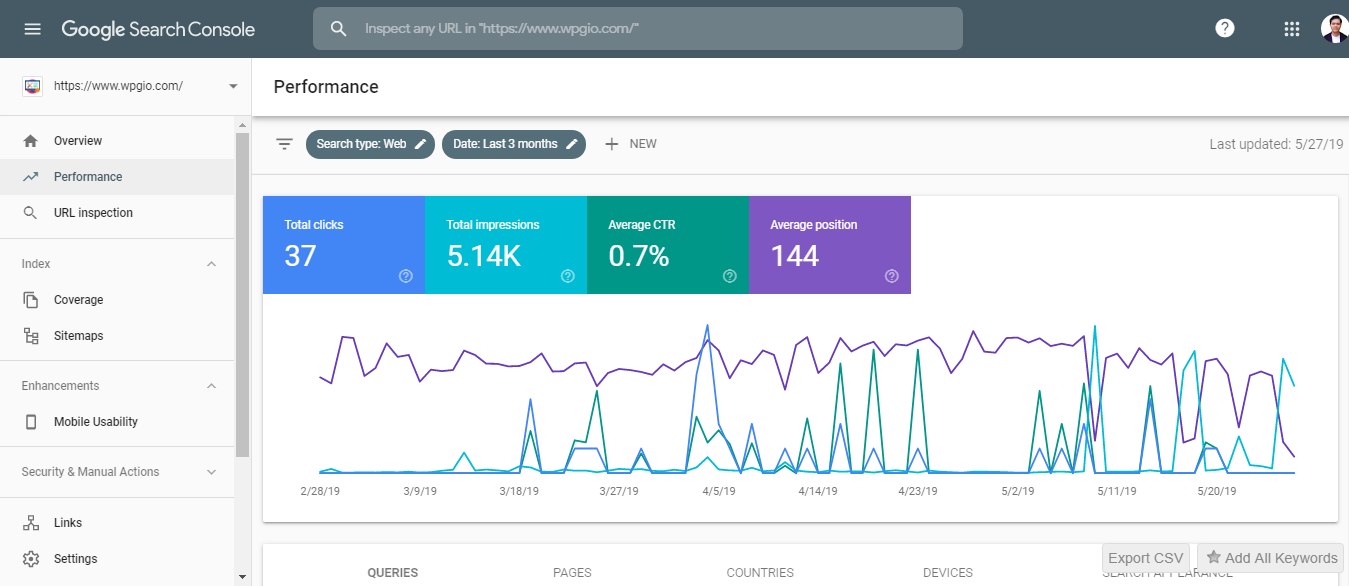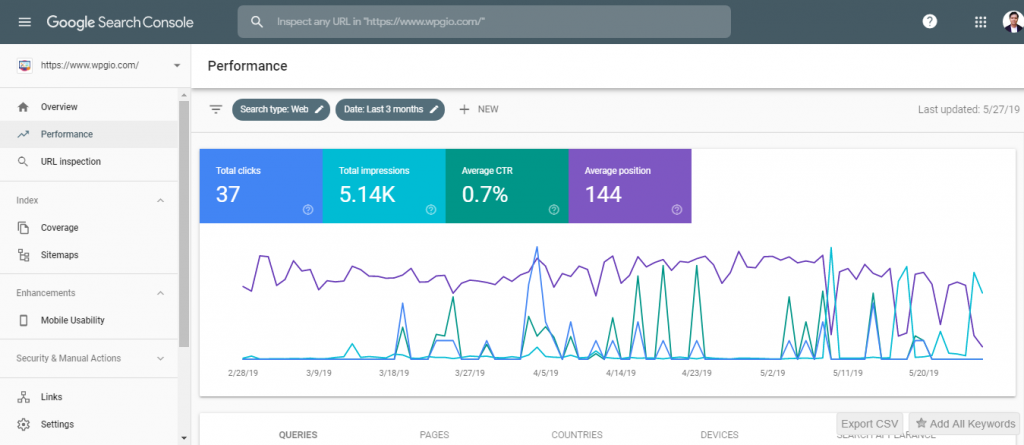 We need the search console to know which page is ranking and what keywords it is ranking. We can also use Google Search Console to submit the sitemap.xml and index our pages.
We can monitor our Mobile usability and website errors. This is also the place where we can disavow links that are Spammy. And many more.
You can simply ask the client if he/she already installed the google search console and you should ask access so you can check what is going on with the website.
4. Are there any Search Console errors?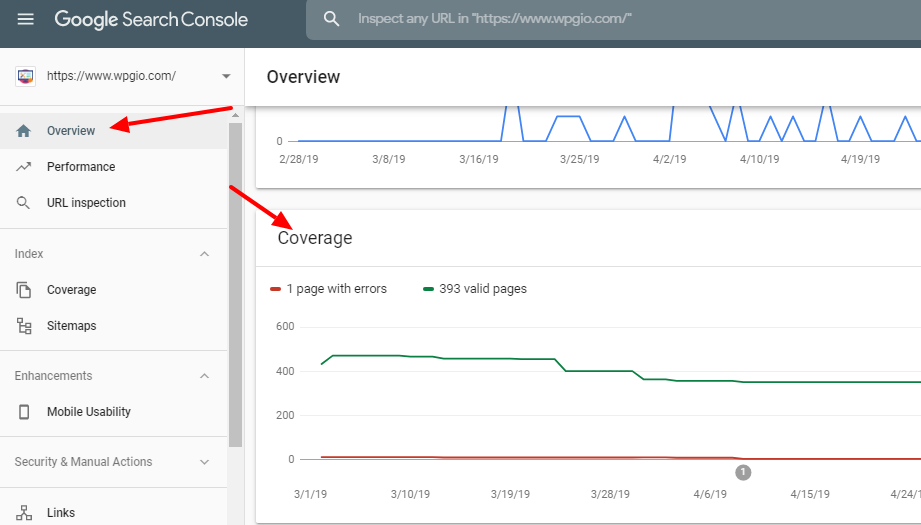 You can also check if there are coverage issues or error pages that search console detects. Checking the Coverage you need to go to OverView then navigate to Coverage section. You will see something like error pages and must be fixed. Check the image above.
I have one error page showing in my search console but it is in the process of fixing.
5. Did the Owner submit sitemap.xml file?
In Google Search Console the owner of the website must submit the sitemap.xml in google search console so robots can crawl them and index the website pages and posts.
Read more about Submitting your website in the Search Engine.
6. Are any invalid pages in the sitemap?
The invalid pages in the sitemap includes little to no content which is being indexed or included in the sitemap.
7. Are there any negative search results for the brand?
Negative search results talks about when you will search about the keyword or the website then it will also have results which in appropriate. Like porn niche results.
8. Are there any negative Google Autosuggest?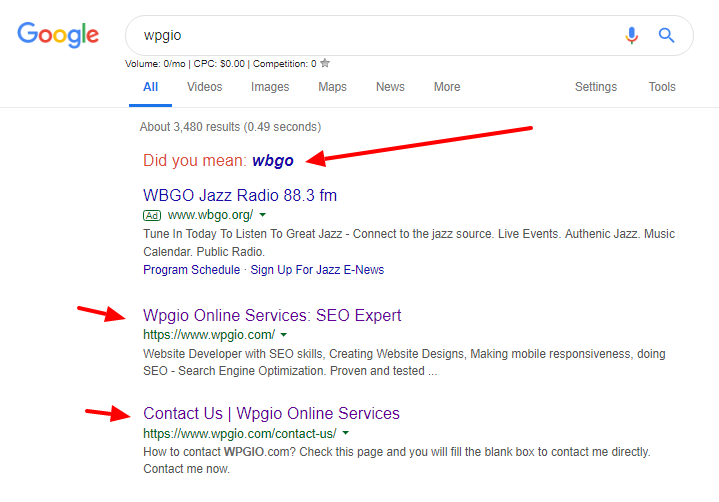 This is something like when you will search the keyword wpgio in google? it will show a suggested keyword. It happened when your brand is new.
This can be fixed by creating more content with Wpgio keyword included. Google will know lots of pages is for the keyword Wpgio so they will not auto suggest the keyword anymore.
9. Any manual actions?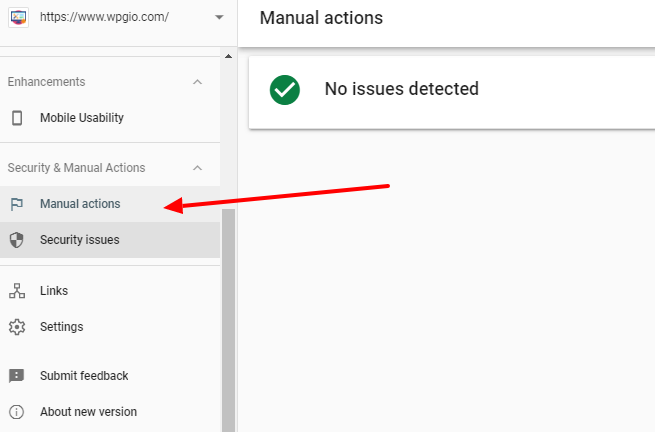 This is very important and just follow the whitehat techniques only. Focus on the content of the website.
Manual Action is really painful when you are in this situation.
You can find it in Security and Manual Actions in Google Search Console.
10. Are there any crawl errors?


You can also check this Crawled Errors in Google search console.
You can go to the section where it says Coverage. The situation is like this, when robots crawled your pages and it has no index tag and nofollow tag. But it is included in the sitemap.xml. Then Google Search Console will found it and marked it as crawled errors.
Competition Analysis
Analyzing who is your competitor is really important in your SEO Audit. Because you can't compete if your website is fresh and your competitor is having Domain Authority of 60 and you have 4? You will be no match for that.
1. Top 3-5 competitors identified?
2. Competitor top 10 keywords
3. Competitor average search positions
4. Top ranking keywords
Site Architecture
Categorized URL Structure
Uncategorized Pages or Posts
404 Pages That Get Traffic ->301
404 Pages No Traffic -> 410
Are The Correct Redirect Thank You Pages In Place
All Footer & Header Links Work?
Are Tag Pages being used?
Is the site using a crumb trail?
Is primary navigation easy to use?
Footer navigation checks?
Is all good content under 4 clicks from home?
Menu setup and use
Indexation
This is the time where you will search in google about the website. When you check the website in google. Normally you will have "site:website.com".
It is still the same process to all of the list here bellow, You just make sure this thank you pages, pdf, authors and more will have a noindex and nofollow tag.
But if the website is old and this pages have traffics coming in, then you just consider. So it is important to know and have access to google search console.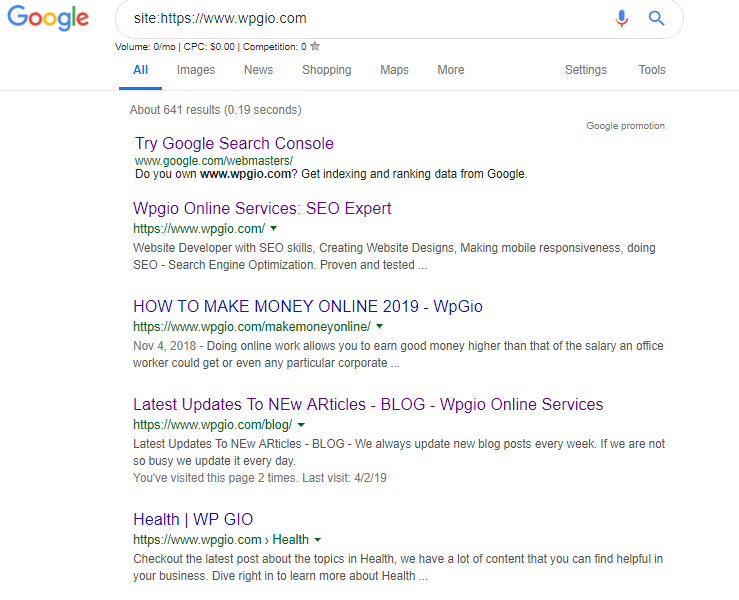 1. Thank You Pages – No Indexed/ No Follow
Search in google command – "site:website.com inurl:thank"
2. PDFs – No Indexed/ No Follow
Search in google command – "site:website.com inurl:pdf"
3. Dates – No Indexed/ No Follow
Search in google command – "site:website.com inurl:2019"
4. Authors – No Indexed/ No Follow
Search in google command – "site:website.com inurl:author"
5. Post Tags – No Indexed/ No Follow
Search in google command – "site:website.com inurl:tag"
6. Product Tags – No Indexed/ No Follow
Search in google command – "site:website.com inurl:products/tag"
7. Account Pages – No Indexed/ No Follow
Search in google command – "site:website.com inurl:account"
8. Media Attachments – No Indexed/ No Follow
The media attachment urls can be found in the sitemap.xml. and also in the settings of the Yoast or all in one SEO plugin. If you customized your sitemap and uses a different platform then you must check if this media attachments are being indexed.
9. Category Pages – No Indexed/ No Follow
Search in google command – "site:website.com inurl:category"
10. Thin Content or No Value Pages – No Indexed/ No Follow
You just check the pages of the website and see if there are pages which are thin content. This pages should not be index because too much thin content on your website ? you will be hit by an algorithm called Panda.
11. No Meta Keywords
Google will still check if there is keywords or keyphrase in the page or post. Just don't go crazy and have a tone of Keywords in just one post or page.
You can use meta keywords for wrong spelling keywords.
Schema Markup
Organization Markup (National Sites)
Local Business Markup
About Markup
Contact Markup
Blog Markup
Bread Crumbs Markup
News Article Markup
Event Markup
Open House Markup
Schema Errors
So you see this list but you should choose wisely. LOL. For me if the website that i am auditing is A Local Business. Then i will choose a Local Business Markup, an About Markup, Contact Markup and Bread Crumbs Markup.
It is not necessary to have all the schema added to your website. For the homepage you can just add the local business and in the about page is about markup and in the contact page use the contact markup.
Plugins (WordPress Only)
Yoast
All in one SEO
WPSSO Core
WP SMUSH
Broken Link Checker
SOGO Add Script Header Footer
"410 for WordPress"
Redirection
Backup Plugin
WP Fastest Cache
Markup (JSON-LD) structured in schema.org
When you are auditing a website and it is in WordPress then this plugins you must check because they will help you with the WordPress CMS.
Don't think that you are using YOAST plugin and then you will use also All in one SEO. That will just conflict the process. Use this plugin to its purpose.
Let me know in the comments if you are not familiar with this plugins. So i can help you.
Google My Business Optimization (Local Only)
Physical Address
Service Location
Correct Hours
Multiple Categories
Responding to Reviews
Keyword Stuffed Title Tag
Using Post Capability
Answering Questions
Using Promotions
Continually Posting Content
3x Services Photos
3x Inside Location Photos
3x Outside Location Photos
3x Team Photos
For the Google My Business Account I get this idea from Chase Reiner. We are buddies by the way. I just didn't sign up to his SEO Certification.
Well let me tell you something about this. This are the list which will guide you in GMB. What i'm about to say is the information you added in GMB must be the same in your website information.
I'm talking about the about page information and contact page information. The name, phone number, and address must be the same.
The thing you should also check is the posting, the GMB must be active. Like replying to question. Replying to reviews. And for GMB to succeed it should have lots of reviews. With beautiful images.
Page Speed Optimization
Hosting Name: + Server Speed
Overall Page Speed Timings and Requests
Image Compression
Browser Caching
Gzip Compression
JS and CSS Minification
Content Delivery Network (CDN)
Plugin Conflict (WordPress only)
When you are doing this page speed optimization this are the list that you should consider in making the website load faster. If this failed to be optimized. Then you can marked in your checklist that it needs to be optimized.
Do you want to learn how to make your website load faster?
Check out my tutorial about Speeding your WordPress Website.
Bonus Resources You should Check
IQ SEO – The Ultimate SEO Audit Checklist
Chase Reiner – SEO Audit Checklist Template