Quizdom App Review-Legit or Scam?
Introduction
Quizdom App Review– For the past years, several reward-earning applications were launched, and it's quite fascinating to see a lot of people who are giving good and positive reviews to prove their legitimacy. However, it is inevitable to doubt and be wary if it is indeed legit or a scam, right?
That's why for this blog, we are going to introduce to you another application called Quizdom, and give our honest and unbiased review about the app.

What is Quizdom App?
Quizdom is a game app that offers a trivia quiz and a thousand questions which you can enjoy! It has 16 categories that present various exciting questions, including Logo quiz, music trivia, Sports Quiz, and many more.
It also allows you to connect with your friends all over the world through their quiz battles!
Moreover, the exciting part is that aside from being a recreational activity that can exercise your brain while having fun, you can also gain a few dollars, which you can earn through scratchers
and slot machines.
– Quizdom's Features –
🌟 16 Type Categories: Logo Quiz, Music Trivia, Geography, Science, Sports, etc.
🌟 Quiz Battle: Challenge the trivia question with friends all over the world!
🌟 You can play anywhere and anytime without WIFI or Internet.
🌟 Get Free coins and various rewards every day!
🌟 Play with your friends and family, quiz up together!
You can download the app here: https://play.google.com/store/apps/details?id=com.freepuzzlegames.logoguessing.quiz
Is Quizdom App Legit or Scam?
Quizdom is NOT a scam, but it's also hard to label it as LEGIT. To know more as to what this is our verdict, you can read the whole review to find more information.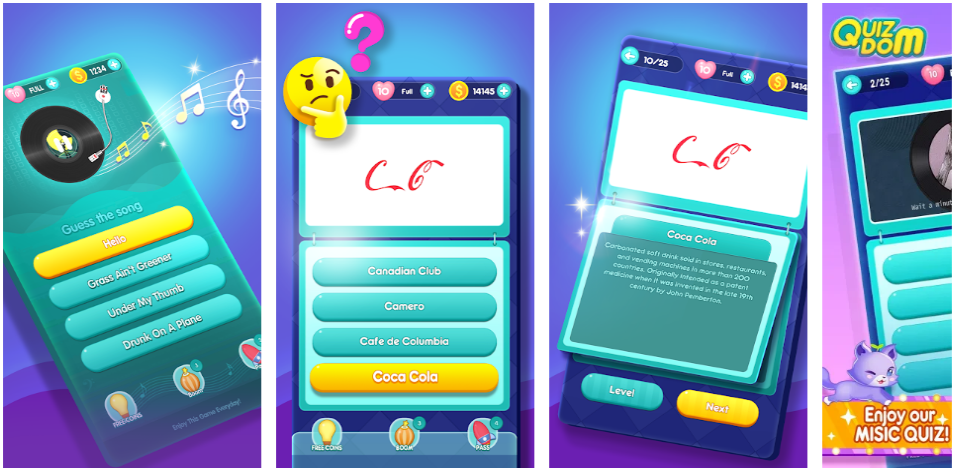 How Does Quizdom App Works?
Quizdom app is currently available on Google Play Store, which you can download and install for FREE on your android phone. Upon launching the app, it will require you to allow access to your files, media, and photos, as well as accept the terms and conditions.
Unlike other applications, it is your choice to sign up immediately or to skip that part. If you will be using the Quizdom app for the first time, it will also offer a tutorial for beginners, and have you finish your first-ever quiz.
Now, you need to know that downloading the application and answering the quizzes are completely free; but there's an optional membership that could be a disadvantage or advantage for you.
Diamond Membership
Joining the app will require you no charges, but there's a membership option that offers two versions. To avail, you must pay $7.99 (billed annually), $12.99 monthly, or you can also try it out via their 3-day trial version.
Here are the actual benefits you can get from availing a membership.
Exclusive rewards including 500 coins daily
Remove the annoying advertisements
Free spins for more chances of earning rewards
All levels will be unlocked
Now, if you are aiming to earn money through an application, why do you have to pay for a membership? There are actually a lot of negative questions about this, which will be revealed in the cons section of this quizdom app review.
How Do I Earn Using Quizdom App?
To earn rewards, you are most likely to gain points by playing trivia quizzes. First, you have to choose which category or questions you want to answer, and after completing it, you will be given a chest roulettes that will either give you coins or cash rewards.
There are also occasional scratch cards and free spin wheels that you can try to earn more coins or cash.
What are the Ways to Encash My Money from Quizdom App?
You can only get your payout once you already reach the payment threshold which amounts to $10.There are various modes of payment that you can choose from, including PayPal or gift cards such as Google Play, Amazon, Walmart, Nike, and many more.
What are the Pros and Cons of Using Quizdom App?
Pros
If you are looking for good brain-exercises that you can play along with your friends, and family, then Quizdom app is indeed a great free trivia and quiz game app, offering more than thousands of questions.
Free app to 'earn' dollars
Cons
In this section, prepare yourself as there are actually more disadvantages to this app than its pros. Sit back and we are going to present what are the negative things you may encounter while using this app.
Several comments and reviews in their Google Play review section are talking about the crowded ads in which you can see every quiz you are taking. In between games, ads may pop out, as well as when you are opening chest roulette, which somehow takes much of your time.
If you are using a data plan, it's a pain for you as the ads actually consume data.
Indeed, it is understandable to put ads as it is also a way for the game maker to earn and support their app, though, you can say its too much one you experience at least 3-4 ads on answering a single set of a quiz.
No guarantee of being paid
If you will actually look for testimonies, it will only leave you in frustrations due to negative feedback on this app. According to some users, they are not able to reach the $10 payment threshold.
If the usual game's pattern allows you to earn more money while playing more games; quizdom works vice versa. The more games or trivia you answer, the less money you can earn from the chest roulette.
In addition to this, you can't also see any charts or records of the users who already get their payment from the app.
Even if you earn several coins, you can't use it to redeem or exchange for cash. In particular, it has no monetary value and you can only use it for the games.
Pressure you to avail a membership
If you are thinking of making Quizdom as your side hustle, you may wonder if why do you have to avail and pay when you are actually using the app to earn money?
Let's say you avail the 3-day free trial and forget to cancel your subscription—then that's going to be a loss for you. As mentioned, there are actually no testimonies that you can get their promised $10, so if you will be billed $94.99 a year, that costs a lot for you.
Quizdom App Review Conclusion:
In the conclusion of this quizdom app review, we can say that it is still 50/50 to label the app legit or scam. It is not a scam, as it is not actually getting money from you unless you avail the membership which is optional.
However, in terms of legitimacy, you can't claim that it is true unless there are testimonies proving that they actually get their money from the app itself, which is one of the aims of this app—to give rewards in exchange for using or playing their game app.
Nevertheless, if you are serious about earning money as an income, chances are pretty low and it is not suggested.
Let me know in the comment section if you have used it. Or how does it works for you.
Check also this awesome application that will give you extra income