AttaPoll App Review – Legit or Scam?
Introduction
AttaPoll App Review– Tired of being scammed? Then we are glad you are here! In these times, it is normal to be skeptical with applications claiming to be legit, as well as be mindful of scam apps to save your time, effort, and investment.
In this review, we are going to discuss AttaPoll Application—revealing if it is legit or scam.
Join Attapoll in this link: https://attapoll.app/join/oqxup
Disclosure: Some articles on this website contain affiliate/sponsored links. Read More about our Affiliate Disclosure.
What is AttaPoll App? – Attapoll app review
AttaPoll App is an application that lets you answer occasional surveys which you can get money in return through your mobile phone. Currently, you can download the app through your android phone via Google Play Store, as well install it on your IOS devices.
How Does AttaPoll App Works?
This mobile-only app is a platform that connects you with a wide range of companies and organizations seeking people's opinion and views about something.
Aside from the commissions that you may earn by answering questions, it also lets you help these companies to know the current situation of consumers to develop new products or services, as well as enhance the existing items.
Now, if you are ready to join, this AttaPoll app review will also teach you on how you can join.
Download and Install the App: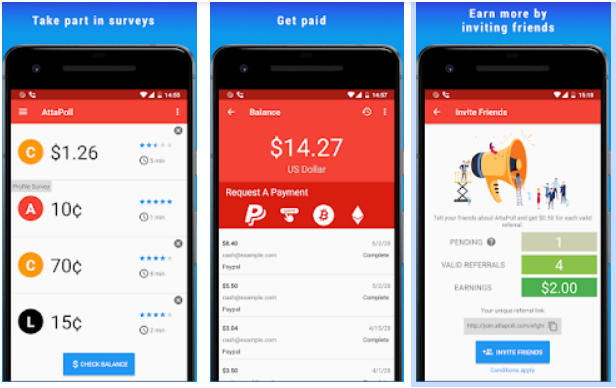 You can install the link directly through your mobile phone via this link: https://play.google.com/store/apps/details?id=com.requapp.requ
Register using your Google Account
As of now, you can only register via your Google account, so make sure that you sign up or ready your account in advance
There you are, you are all set!
How Can I Earn Through AttaPoll App?
What makes this application fun and engaging is that it has two ways on how to earn some money. The following are the options you can choose from to start your venture from no-money to earning life.
Join Attapoll in this link: https://attapoll.app/join/oqxup
Take Paid Surveys
As mentioned above, the main option to earn from this app is by taking and answering surveys. And guess what? You are the boss of your own time on this application.
You get to control whether to choose if you want short or long surveys and decide if how many surveys you want to be tasked to answer each day or per week.
Once you log in, you will be immediately directed to the list of surveys, and each survey has corresponding credits you will get, and it is also mentioned how long it will take you to finish the survey (but this will still depend on how fast you are able to answer the questions).
IMPORTANT TIP: Before answering a survey, you'll have to get through with a qualifying question, and it is indeed important, to be HONEST, and be CONSISTENT with your answers. Note that you can get blacklisted if you are always changing your information/ answer to the same question.
Join Attapoll in this link: https://attapoll.app/join/oqxup
Does Attapoll have a Referral Program?
To maximize your earning, AttaPoll app also allows you to share your source of earnings to your family, friends or colleagues. Once you log in, you will automatically have a unique invite link, and you can share it to the people you know.
Once they successfully join AttaPoll using your invite link, they will be your referral, and you can receive credits if they join and answer at least 3 surveys.
How much Money Can You Earn through AttaPoll App?
Now that you have already signed up, logged in and know what ways to earn, it is best to know if the efforts you will be investing are worthy of its rewards.
Here's the breakdown of how much you can earn through this app:
Upon logging in, you will have £0.10 as your bonus.
In order to cash out, you will need to earn at least 300 credits which are equal to £3 or $5.
1 credit is equivalent to GBP 0.01
300 credits-£3
Thus, the amount that you can earn on this platform is how regularly you take surveys, as well as depends on your time and effort.
Join Attapoll in this link: https://attapoll.app/join/oqxup
How Can I Cash Out My Earnings from AttaPoll App?
There are also various ways to cash out, but this depends on the credits you earned:
£3: 300 credits- PayPal
£10: 10,000 credits- Bitcoin
£10: 10,000 credits- Ethereum
£0.5: 50 credits- Donation
Is AttaPoll App Legit or Scam?
Looking at the reviews and comments of users, AttaPoll App is LEGIT! Nevertheless, just like any application, this also has negative and positive sides so if you want to know more, keep reading and find out if the AttaPoll app is worthy of your time and effort.
What are The Cons and Pros of PlaySpot App?
Pros
Available for Android and IOS devices
Good news for those who only have mobile devices as you can take surveys just using your phone, anywhere and anytime!
Good Payment threshold and Cash out Options
£3 or $5 is the minimum amount you need to gain to have your first cash out, which is a low threshold compared to other reward-earning apps. This will let you become closer to your goal immediately.
They also offer PayPal as a mode of cash out, an easy and secure platform to transfer your earnings.
Join Attapoll in this link: https://attapoll.app/join/oqxup
You are the boss
You control everything. From the number of surveys, you want to answer to the length of surveys you prefer to answer, AttaPoll app gives you the final stand to decide.
Cons
Low payment
Though you can have as much as surveys you want to have, there is no guarantee that you will receive surveys. Also, the credits you can have each survey is low; that's why you have to double your effort on answering various surveys to reach the minimum payment threshold.
You can get disqualified in a survey
There are several negative feedbacks that you can still get disqualified even AFTER answering a survey.
No new surveys
A lot of users also expressed their annoyance that aside from getting disqualified, there are also limited surveys.
Join Attapoll in this link: https://attapoll.app/join/oqxup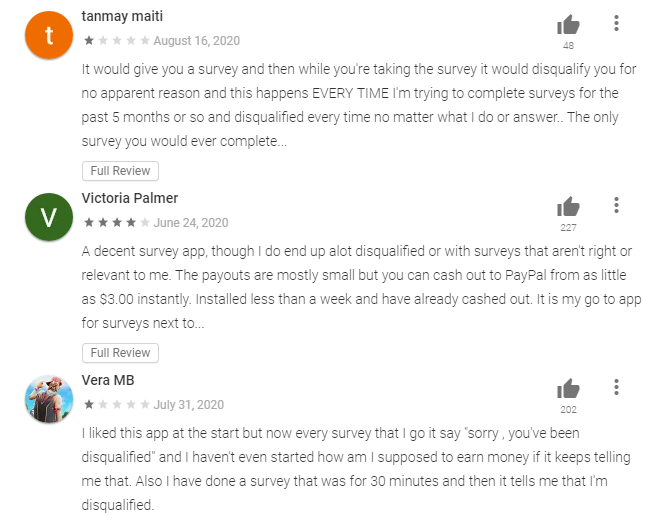 Conclusion
This AttaPoll review concludes that the app is legit, but you have to consider the good and bad stuff about this app. Will it make you rich? Is it worth it? If you are an enthusiast of free reward-earning applications, then you can make this as a side hustle to earn some few dollars.
However, if you are looking for a steady job, then AttaPoll won't give you that much to support your living.
Let me know in the comment section if you have used it. Or how does it works for you.
Check also this awesome application that will give you extra income