SEO tutorial step by step guide from beginners to expert in just 1 week? Am I Serious? Yes, I am. Follow me, and I will guide you in your way. Yeah?
Disclosure: "This article is personal opinion of research based on my experience of almost 5 years. There is no third party advertising on this page or monetised links of any sort. External links to third party sites are moderated by me. Disclaimer." Giovanni (Mr.G) Maravillas
SEO Your Website Tutorial
My name is Giovanni (Mr.G) Maravillas, An SEO expert who will help you learn how search engines work and rank higher in the search results.
In this SEO Website Tutorial, you will learn how to audit your website and what needs to be fixed to rank higher, From On-page Optimization to Off-page Optimization.
Introduction to SEO
"Search engine optimization is often about making small modifications to parts of your website. When viewed individually, these changes might seem like incremental improvements, but when combined with other optimizations, they could have a noticeable impact on your site's user experience and performance in organic search results." Google Starter Guide, 2008
Do you think ranking in google is easy today? Well, to answer this question frankly, it is NO. No, it is not easy to rank in google today compared to 10 years ago. Before, you can just rank instantly with just a click of your finger. Just like that!.
Today We need to understand clearly what Search Engine is doing to make the website on the Top 5 list in google search results. And you know that there are millions of blog posts today than you could imagine.
When I started as an SEO guy, Neilpatel Helped me a lot to understand the basic things you should do to improve the performance and traffic of your website. And I will tell you the truth It is working.
On my website, I will help your peace by peace how I implement SEO techniques in Onpage Optimization and OFF page Optimization.
What is SEO?
SEO or Search Engine Optimization is the process (and sometimes art in itself) of improving the visibility of websites in search engines, in the results they genera, and getting the optimum level of relevant traffic directed to one's site. Thus the word optimization is used. This involves a lot more than one would have guessed from the way that a site is structured. You can have on-page and off-page techniques for a website to be optimized in SEO.
It is basically proven that the higher up or earlier appears on a search engine's results page. We are talking about the page being in the top 1; the more traffic it is likely to get from the users.
Search engine optimization's primary or basic goal is to maximize both aspects of appearance to direct more traffic towards a website from a search engine. So if your website is ranking in the top 5, then your site will benefit more from the traffic, especially if your niche is very competitive.
Search engines use internet bots called 'crawlers' or 'spiders' to index websites and keep their indexes updated monthly or weekly. This process is called crawling. Crawling is the process of reading or scanning website URLs on the world wide web. Together with these spiders, algorithms are written to generate results from the indexes created by Google or other search engines.
Firstly, the process is made easier to index for a search engine's spider. Secondly, your website must be mobile responsive, so it will also rank higher in mobile SE, which is a large part of search engine optimization.
Remember, SEO improves the 'organic' or 'natural' results that a search engine generates for one's website. We can talk about this all day whether what you must do to improve the rankings of your website.
Organic here means that the results are not optimized by paying the search engine as ad-based optimization does to get paid or sponsored results. Ad-based optimization is another search engine marketing methodology altogether.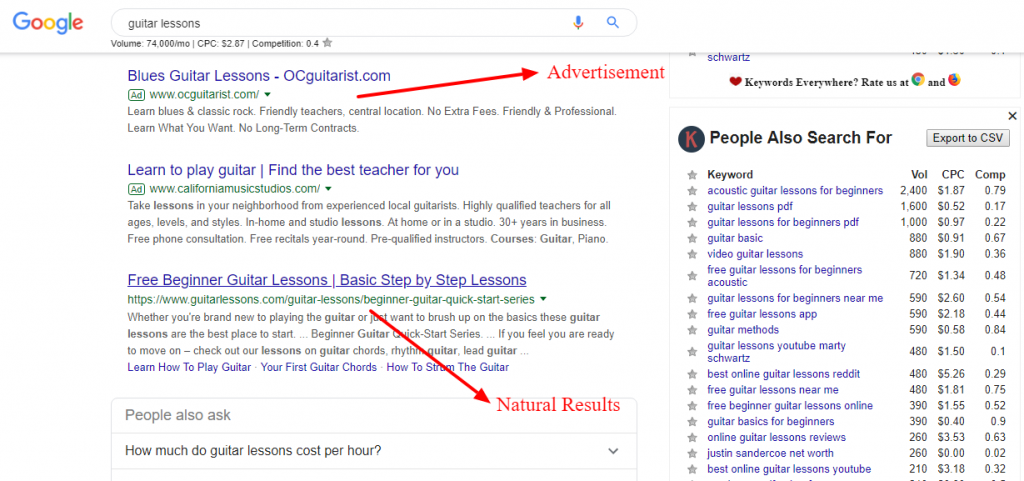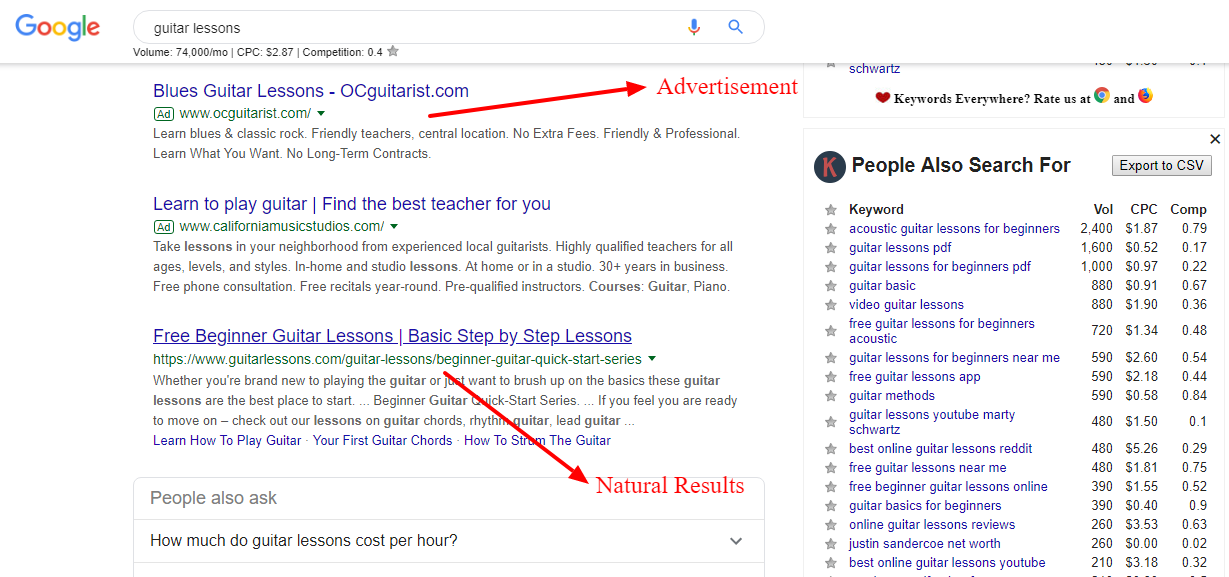 What really matters today in SEO is what you prioritize to implement today so that after 6 months, you will see the results and feel the benefit of Organic traffic.
Follow everything that Google allows to do in a website to be in the top rank. It is essentially what you add in the content section of your website and the meta description and title.
Most posts and pages rank on top if they have a minimum of 1000 words in the page's body content. The more value you add to your users, the more it will rank in the Search Results.
What Really Matters if you do SEO?
There aren't any quick magical tricks that an SEO will provide so that your site ranks number one. It's important to note that any SEO potential must be implemented in best ways. You will see result in the long run not in fast and short period of time.
In my opinion, here are the things that really matter if you do SEO if you are a beginner, and I would wager that both white-hats and black-hats would agree on these:
Don't confuse or annoy a website visitor
Don't block Google from crawling resources on your site except if they are thin contents.
Have a well coded responsive website design that works on mobile and desktop
Geo target your site in Search Console AKA Google Webmaster Tools (unless you have a country specific domain), You can Geo Target your images.
Put your keyword phrase once in the Page Title
Put your keyword phrase in the Main Content on the page (at least once in page copy (in Paragraph tags), If your competitor is using it more than twice then you should do it, just don't over optimize and add a bunch keywords every paragraph.
Avoid keyword stuffing main content
Optimize your meta description to have a clickable effect to the users
Ensure the Main Content of the page is high-quality, Avoid wrong grammar and spelling.
Ensure the keywords you want to rank for are present on your site. And they are not hard to compete so you will see better results in less time.
Add value to pages with ordered lists, images, videos and tables
Optimize for increased 'user intent' satisfaction (e.g. increased dwell times on a page or site)
Update the content on your site
Trim outdated content from your site
Avoid publishing and indexing content-poor pages (especially affiliate sites)
Aim for a good ratio of 'useful' user-centered text to affiliate links
Do not push the main content down a page unnecessarily with ads etc
Link to related content on your site with useful and very relevant anchor text
Make the navigation of your site to be user friendly, Easy to navigate.
Pay attention to what 'annoys' website visitors
Remove annoying ads and pop-ups (especially on mobile)
Improved websites site-wide that meet Google technical recommendations on (for example) pagination best practices
Ensure a Fast Website on mobile and desktop
Provide clear disclosure of affiliate ads and non-intrusive advertising. Clear disclosure of everything.
Add high-quality and relevant external links (depending if the query is informational)
If you can, include the Keyword phrase in the URL, 5 word in the URL is much better
Use the Keyword phrase in internal anchor text pointing to this page
Use Headings, Lists and HTML Tables on pages if you show data
Ensure on average all 'Main Content' blocks of all pages on the site are high-quality
Ensure old SEO practices are cleaned up and removed from site
Avoid implementing old-school SEO practices in new campaigns and try Latest SEO practices that is good for Google.
Consider disavowing any obvious low-quality links from previous SEO efforts or caused by the competitors jealousy to your website.
Provide Clear website domain ownership, copyright and contact details on the site
Share your content on the major social networks example facebook when it is good enough
Get backlinks from real websites with real high domain trust and authority
Convert visitors into Leads
Monitor VERY CAREFULLY any user-generated content on your site example in the comment section, because it is rated as part of your own site content this can be helpful or can harm your content.
Pay attention to site security issues (implement https, for example), This is mandatory in Google in todays age.
Remove external and internal 404 urls
Call to action above the fold.
How Search Engine Search Bar Works?
Google is "the biggest kingmaker on this Earth." Amit Singhal, Google, 2010
Based on my experience on how the search bar works, it will crawl millions of pages. Then it will cache based on the keyphrase that a user enters.
For example, if the user searches for Guitar Lessons, it will show on the top, called an advertisement. That is what Google PPC works. Then after the ad section, it will show the Top Search results.
That is our goal, to be on the top 1 of the Search Results. How would you end up in the position?
Meta Title
The thing you should optimize is the Meta title of your website. These meta titles are significant because they play a bigger role to be indexed on the top. For example, you are searching for Guitar Lessons. You can optimize your title into "Guitar Lessons for Beginners" or "Guitar Lessons on how to be an Expert."
Meta Description
You need to consider also optimizing the meta description of your page or post. When you optimize this, you need to add one keyphrase and make it as clickable as possible. You should also include your phone number if needed.
The Process
The process can be practiced successfully in a bedroom or a workplace. Still, it has traditionally always involved mastering many skills as they arose, including diverse marketing technologies including but not limited to:
Website design
Accessibility
Usability
User experience
Website development
PHP, HTML, CSS, etc.
Server management
Domain management
Copywriting
Spreadsheets
Backlink analysis
Keyword research
Social media promotion
Software development
Analytics and data analysis
Information architecture
Research
Log Analysis
Looking at Google for hours on end
It takes a lot of effort to rank a page in Google in competitive niches due to competition for those top spots.
User Experience
At Google we are aiming to provide a great user experience on any device, we're making a big push to ensure the search results we deliver reflect this principle. Google 2014
The user experience is significant to the websites because it will drive more traffic but not a ranking factor. But we should use an optimizer for the best user experience. Because if we do, then the user that visits our site will have in thought to go back again in the future.
"I don't think we even see what people are doing on your website if they're filling out forms or not if they're converting to actually buying something so if we can't really see that then that's not something that we'd be able to take into account anyway. So from my point of view that's not something I'd really treat as a ranking factor.

Of course if people are going to your website and they're filling out forms or signing up for your service or for a newsletter then generally that's a sign that you're doing the right things.". John Mueller, Google 2015
Note what Google labels 'user experience' may differ from how others define it.
What is a Successful Strategy?
Get relevant with your content.
Get trusted by other websites and with the information you provided.
Get Popular, let your friends and families share your content if they love it, we'll try to do guest posting.
Help a visitor complete their task. Provide Good value to your users.
SEO is no longer just about manipulation in search results. Before you can do the blackhat technique and benefit millions of traffic. Now you get penalized if you get caught!
It's about adding value and quality and often useful content to your website that together meets a PURPOSE that delivers USER SATISFACTION over the longer term. Images or Videos play a huge role in the satisfaction of a user. Some users are tired of reading the whole content.
If you are really serious about getting millions of free traffic from search engines, get ready to invest time and effort in your website and online marketing. I am not saying this can be done overnight. You need to have the patience to see results.
Quality Signals
"Another problem we were having was an issue with quality and this was particularly bad (we think of it as around 2008 2009 to 2011) we were getting lots of complaints about low-quality content and they were right. We were seeing the same low-quality thing but our relevance metrics kept going up and that's because the low-quality pages can be very relevant. This is basically the definition of a content farm in our in our vision of the world so we thought we were doing great our numbers were saying we were doing great and we were delivering a terrible user experience and turned out we weren't measuring what we needed to so what we ended up doing was defining an explicit quality metric which got directly at the issue of quality it's not the same as relevance …. and it enabled us to develop quality related signals separate from relevant signals and really improve them independently so when the metrics missed something what ranking engineers need to do is fix the rating guidelines… or develop new metrics." SMX West 2016 – How Google Works: A Google Ranking Engineer's Story (VIDEO) See below
Actually, before you can create a piece of content with such a small amount of quality and rank it in google's top 1, yes, I am saying thin content articles before are ranking on the top of google search results.

How do they do it? Well, let us say that is a blackhat way to link a high domain authority site to the thin content of your website and boost its ranking in the search results.
Today Google Penalize these pages which are having thin content. Well, I am not saying that if you are having 1 piece of thin content, you get penalized directly. But I am saying that if you have A bunch of Thin content on your website. You will seriously see a drastic amount dropped in your rankings.
You see, nowadays, if you are using WordPress, the best CMS out there, in my opinion. Last 2018 people using the Yoast plugin have experience a drastic amount of dropped traffic on their website.
It is actually about the Media Attachment URL, which is being indexed by their SEO plugin, YOAST. The company fixed it directly. Many websites are being affected by media attachment URLs.

This actually does index the media attachment as a unique piece of content, and Google will think that this content is Thin Content because it only has an image in the body.
Read more of it here:
https://yoast.com/media-attachment-urls/
You will see how they fixed the issue about thin content. And why thin content will going to hurt the SEO of your website. Now you see Thin Content doesn't Work Anymore.
Essentially, the 'agreement' with Google is if you're willing to add a lot of great content to your website and create a buzz about your company, Google will rank you high above others who do not invest in this endeavor.
"high quality content is something I'd focus on. I see lots and lots of SEO blogs talking about user experience, which I think is a great thing to focus on as well. Because that essentially kind of focuses on what we are trying to look at as well. We want to rank content that is useful for (Googleusers) and if your content is really useful for them, then we want to rank it." John Mueller, Google 2016
If you try to manipulate Google, it will penalize you for a period, and often until you fix the offending issue – which we know can LAST YEARS.
If you are a real business that intends to build a brand online and rely on organic traffic – you can't use blackhat methods. Just stop it!. It can take a LONG time for a site to recover from using black hat SEO tactics, and fixing the problems will not necessarily bring organic traffic back as before a penalty.
Rankings could be based on a 'duration performance score'
"The duration performance scores can be used in scoring resources and websites for search operations. The search operations may include scoring resources for search results, prioritizing the indexing of websites, suggesting resources or websites, protecting particular resources or websites from demotions, precluding particular resources or websites from promotions, or other appropriate search operations." A Panda Patent on Website and Category Visit Durations
What Makes A Page Spam?
This is the list that makes the pages become Spam:
Hidden text or links – may be exposed by selecting all page text and scrolling to the bottom (all text is highlighted), disabling CSS/Javascript, or viewing source code
Sneaky redirects – redirecting through several URLs, rotating destination domains cloaking with JavaScript redirects and 100% frame
Keyword stuffing – no percentage or keyword density given; this is up to the rater
PPC ads that only serve to make money, not help users
Copied/scraped content and PPC ads
Feeds with PPC ads
Doorway pages – multiple landing pages that all direct user to the same destination
Templates and other computer-generated pages mass-produced, marked by copied content and/or slight keyword variations
Copied message boards with no other page content
Fake search pages with PPC ads
Fake blogs with PPC ads, identified by copied/scraped or nonsensical spun content
Thin affiliate sites that only exist to make money, identified by checkout on a different domain, image properties showing origination at another URL, lack of original content, different Who Is registrants of the two domains in question
Pure PPC pages with little to no content
Parked domains
Seriously!!
Making your website with navigation of Homepage and Blog from that point of view, I would consider your website as SPammy Websites. Actually, these are the things that PBN's Site DO before. And please, if you will do PBN? Make it not look so obvious enough even a baby can determine that they won't like it.
Sure thing PBN are supposed to be hidden, BUT if you turn with PBN into money sites? Or adding AdSense to it? Seriously! You get penalize and detected.
Ask me why? Google Adsense is in Google obviously, and Adsense has the same community or policy as Google Search Console. They don't tolerate Low-Quality Content.
How to solve it? It's simple, once you plan to make it a money site, make it as real as possible, add something really true, like a contact page, about page, TOS. Privacy policy, Even testimonial pages or QandA pages, if helpful you must implement also.
If A Page Exists Only To Make Money, The Page Is Spam, to Google
"If A Page Exists Only To Make Money, The Page Is Spam" GOOGLE
This is the main point here; Well, let's assume that your website has been penalized by google by Pure Spam. Then what should you do?
If you have scraped that content or spin it normally, it is not for the users to read but for the bots. You should eliminate that!. Clean the website, Add more pages like the contact us page, about us page, Privacy policy page, and more.
You can spin content if you have been approving but not recommended. Stay away from spinning content. That will eventually hurt your website in the future.
Now add real content to your website. Once you are done fixing the site, Inform google and submit for reapproval for Adsense or in the search console.
IF you can't do it, I am always here to help you with your needs. Contact me anytime you like.
It's worth remembering:
If A Page Exists Only To Make Money, The Page Is Spam
If A Site Exists Only To Make Money, The Site Is Spam
This is how what you make will be judged – whether it is fair or not.
What are Doorway Pages?
Google says:
Doorways are sites or pages created to rank highly for specific search queries. They are bad for users because they can lead to multiple similar pages in user search results, where each result ends up taking the user to essentially the same destination. They can also lead users to intermediate pages that are not as useful as the final destination.
Read more here:
https://support.google.com/webmasters/answer/2721311?hl=en
What Does Google Classify As Doorway Pages?
Understanding what doorway pages are is very important, so you will know how it will affect your website in the long run.
How Can An SEO Checklist Help My Website SEO?
"This checklist may change overtime, but pay close attention to details as why each of this items in the list are very important in your websites. They will help you fix the technical issues in your website from sitewide to onpage optimization." Mr.G | Wpgio
I am about to share with you the lists that help my website and my client's websites rank higher in the search results.
Check my article about THE BEST CHECKLIST FOR SEO AUDIT, which will guide you to the latest checklist.
SEO Tutorial Comes With A list of Checklists
Well, in my experience in doing SEO for clients, there is just one thing that you should not forget—your Pen and Paper. Funny right? Hehe yeah, it is!
You should have a checklist, and we will go over the basic ones in this. You are looking for the Expert Checklist? Click the link above that's my article about and EXPERT Checklist with explanation and other resources you need.
When you are talking to a client, you can't explain SEO in just one word. You just can't. So let's talk about the things that you need now.
Content Optimization
When you are going to do Content Optimization on your websites, you need to know the details on what users are you going to target, What keywords are you going to use, how many word count does it needed to be on top, do you need a call to action to achieve your goal.
And many more questions that you need to understand to have the success of the content. I will show you which things are needed to be optimized so your content will have a higher rank in search results.
Target Audience
Before you do the content of your website, you need to know first who you are serving, whether the audience will be lawyers or Women age from 20 to '30s.
This is really important to narrow the things that you should do on your website.
When you finally have the targeted audience. Then you can proceed by creating the content specifically for this audience. For example, if your target is women's clothing around 18 years old to 35 years old.
Then optimizing the content or products specifically for that target audience. You can't produce content for kids' clothing when your target is women in their adulthood.
Understanding your searchers first and answering them by the post or pages or products you offer can really improve your website with the help of Keyword Research.
Keyword Strategy
Now you know what your target audience is. The next step is to know what keywords work and if these keywords have a high chance of ranking.
Many called it Keyword Research, by which you will research which keyword your users are typing into google.
Knowing what users are looking for and providing them high-quality content can boost your rankings at any time.
Word Count
When are you creating content on your websites? Word count really matters. Especially when you are competing with big websites or your competitors have more than 1000 words on a blog post that is ranking for a certain keyword. To outrank this blog, you need to do more quality in your blog post.
If a 2000 word count is needed to outrank the top pages, you should do it too. Just don't do over optimization where you will insert the keyword to every paragraph you will create.
Mostly that is called keyword stuffing. And google doesn't want that kind of technique in your blog post. Make it natural. You don't need to mention SEO all the time if you want to rank for this keyword.
All you need is the exact value you provide for the term SEO, and the users and google will understand it.
Call to Action (CTA)
For a website that you are auditing or improving the SEO or CTR, you need the Call to Action button at the top of the pages or the above the fold.
What will CTA do? Well, it depends on what call to action you are doing. If you have an eCommerce site, you should probably have a BUY NOW button at the top of your pages. Or if your website is all about a service you are offering, then the CTA should be GET A QUOTE or something like FREE SEO AUDIT, just like my website.
The users will know exactly what you are offering based on the CTA above the fold, and they will not be confused about what you are trying to sell them or promote.
Content Freshness
Does Content freshness mean you need to update the content of your website monthly? NO! this means that you need to update the quality of the content of your website after a year.
A good example will be if your content has been publishing way back year 2017, and during this period of time, you should update it, especially when your topic is all about SEO. Because the year 2017 topic is different from the latest SEO strategies.
If Google sees your content that has been updated, then they will surely rank it higher. Because in today's age, we all have a very competitive niche. And our competitors are not sleeping just to get that top #1 rank.
Static Content on Homepage
Static content means that if your CMS is WordPress, then the theme you are using can have a default homepage that shows all your blog posts.
Creating a page specifically for the homepage make's it static. You can then change the default homepage into a static page that you have created. You can then customize the looks and the content that you will add to the homepage.
Showcasing the details that you are doing or the main topic of the website.
You can have sections on the homepage wherein you will show the users' testimonials, the services you offer, or even the products you are selling.
The best practice if you are using WordPress is to create a static page for the homepage and a separate page for the blogs wherein you can show all the blog posts that you have on your website.
Duplicate Content
Duplicate content has two types, duplicate inside your website and duplicate from another website. Before, I used SiteLiner to check my website if there are duplicates. But now I can't access them. I just don't know why.
You can use other free tools out there to know the duplicate content of your website pages and post for example Duplicate Content Checker. I have used it until now to check if my pages have duplicate content and updating them.
Leave a comment if you have found free tools or paid tools to check duplicate content. Users can benefit from it if they read this post.
On-Page Optimization
Now you have known Content Optimization. It is time to talk about on-page optimization wherein you will optimize the title tag or meta title, description tag or meta description, heading tags just like h1, h2, h3, and so on.
When you do on-page optimization, it doesn't mean you are just going to do it on the homepage. This means you will analyze and fix or improve each page of your website if you want it to rank higher in the SERPS.
Title Tag
Title tags or meta titles should have 9 words or approximately 70 characters because google is showing in the SERPS only with this amount of words or characters.
The title of your website should have the keyword that you want them to rank. This also becomes the title that searchers see in search results. Please don't use the keyword 2 to 3 times in the meta title because it will still be counted as 1.


You see, If you used more words, it would be cut off by Google.
Description Tag
Description tag or meta descriptions are describing what the page is all about. This description should have approximately 24 words or 160 characters with spaces.
You can include the important information about the page together with the keywords that you want. Remember, the keywords you used in the meta title should be the keyword you will use in the meta description.

Remember to keep the meta title and meta keywords unique to all the pages on your website.
Keywords Tag
Meta keywords or tags are still beneficial for on-page optimization because it is like telling the bots what keywords your page should be ranking.
The keywords you used in the title tag, description tag should be in the keywords tag, or you could use the wrong spelling technique. For example, when users typed a wrong spelling keyword in the SERPs, you should include that in the keywords.
The keywords tag is valid HTML code that gets indexed with the page. Bruceclay.
Heading Tags
Check your website if you have headings that are well organized. What I am talking about are the headings of the body in your post or page. That should start basically with h1, h2, h3, h4 or like this <h1>, <h2>, <h3>, and so on.
Main headings should have h1 then followed by subheadings which are h2, and so on. Now between these headings, you can add lists or tables to more explain the content.
In your theme or website design, the navigation should not consist of these tags, which will be considered headings of the page.
Image Optimization
When you are making your website load faster, then you should not miss this image optimization. This is really important in blog posts or homepage. Many of us forget to optimize our images, but when you do, then your page will load much faster.
You can use an Image Compressor for free. This is what I personally used to optimize my images that just a plugin can't fix.
When you are using WordPress, there are a bunch of image compression plugins for you to use. One of my favorites is WPSMUSH. They have a free version also.
Alt Attributes
When you upload an image, you need to fill up the details if your CMS is WordPress. Or, if it is with a code, you can add something like alt="Lastname." The "alt name" will serve as the image alt attributes. And screen readers can see this.
Video Optimization
This is all about making your videos rank in the search results and optimizing your page for fast loading. Sometimes having a video on your page can slow it down. But it is helpful for your users and good for SEO.
Having a video on the page makes the users stay longer on your page. And can give you a lot of shares on Social Media.
Structured Data Markup
Structured Data are critical in telling the search engines what your website is all about. What I am using basically is LocalBusiness Schema on the homepage if you are a local business.
About page schema markup on the about page, and Contact Schema markup on the contact page.
You can check if you have schema markup, Just copy your homepage URL and test it here Structured Data Testing Tool.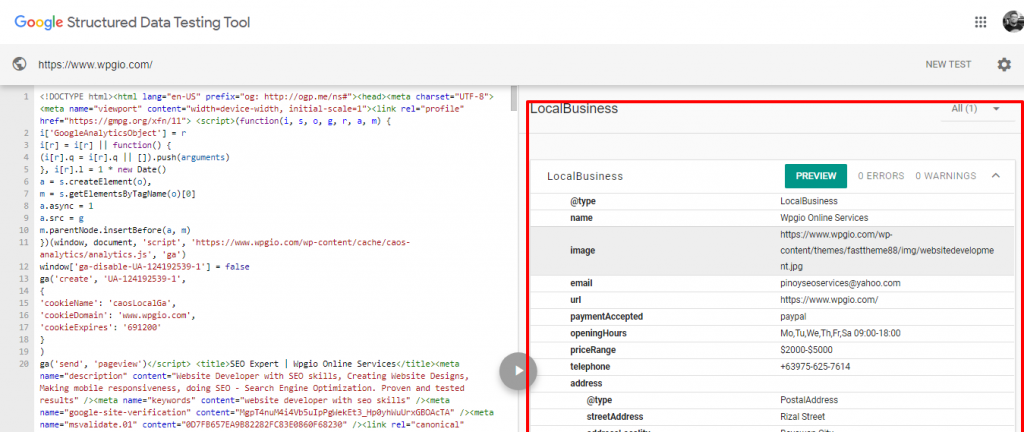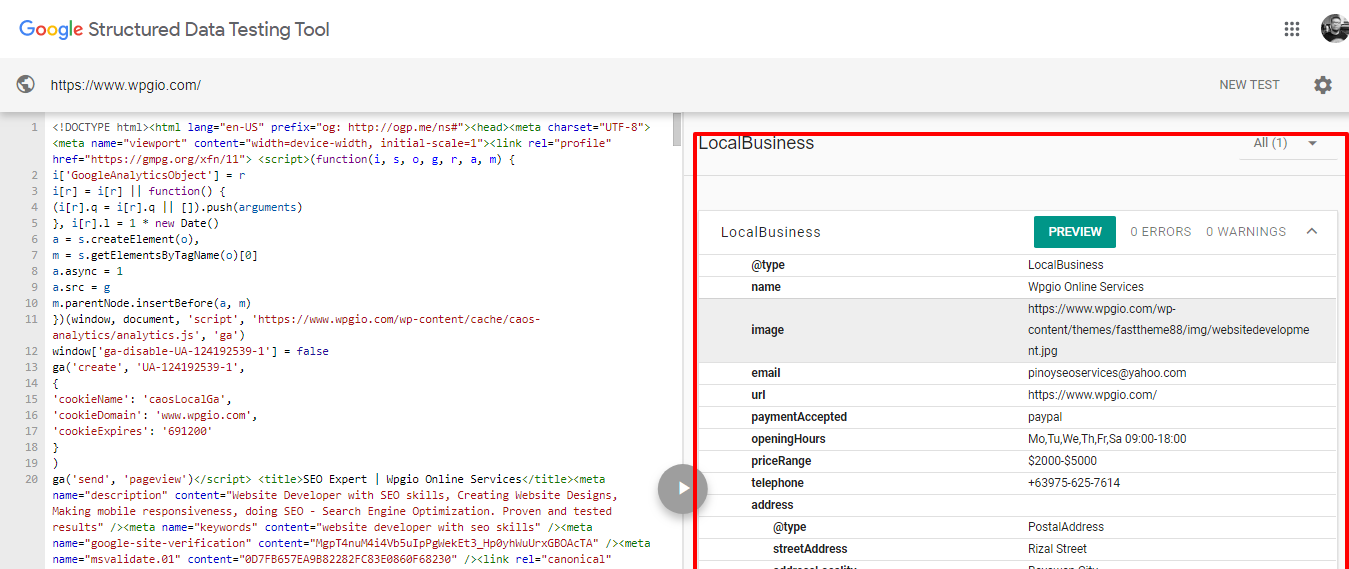 More Structured Data
There are more Schema Markups that you could use. You should check more in schema.org.
I only used 3 of them. Well, if you have reviews on the page, you could use rich-snippets to give your URL a starred review when showing in the SERPS.
Social Meta Tags
The social meta tags are codes for social media sharing. For example, you could add it in the header or footer on the page. And when the page is being shared on social media like Facebook, it will show the page's title, the featured image of the page, and its description.
This is beneficial information to have on social media. Because if the page doesn't have the tags, it will just show the URL of what you share. No information and can not make the users interested in what you will share.
URL Optimization
When you are fixing the URLs of your website, then you should consider having URLs with 5 to 6-word extensions—the smaller, the better, and much readable.
Use dashes, not underscore, for example, how-to-make-pie. Don't make it like how_to_make_pie.
You know already that you have added the keywords in the title, description, and keyword tag. Now you should consider the keyword in the URL. Just done be spammy when you do it. Example make-pie-with-pie-recipe. Too much pie, right. You get the point.
Local Optimization
If you have a business in your local area, then you have a website, then you can do this local optimization for your site.
Claim Google My Business Listing
When you have a business, you should claim the Google My Business listing. Claiming this will not charge you any amount because it is FREE.
Now I have tried claiming my GMB but have not yet received it. What I am talking about is that it will give you a verification code from google. Google simply will email the information that you entered in the GMB profile.
Then once you receive it, you will then verify your listing.
Mobile Optimization
In mobile optimization, there are many details to cover. One of them is faster to load on mobile. There are also AMP or accelerated mobile pages for mobile.
If you have a website, just be sure that the mobile version is responsive—no overlapping sections. And Buttons are clickable.
You will see errors in your mobile version in Google Search Console if you have set it up on your website.
Sitewide Optimization
Contact Information
To gain more trust in Google and your users, Having the same information in your Google My Business Account and your websites will make you gain that trust.
Just don't mixed information. For example, phone numbers and emails are different in your directory listings and the website.
Testimonials
Having testimonials on your website will gain more trust for your USERS. If you have a service or a product, always ask them to leave a review on your service. If you have a bad customer, don't bother, you will have a 1-star review.
If you were just starting your business and you have no reviews. Then you should ask your family member or your friend to leave you a review. This works all the time.
Privacy Statement
The privacy policy or privacy statement is really a good trust signal for Google and users to know what you are doing with the data you are collecting on your website.
It is really a good practice to have a privacy policy on your website to gain more trust. If your website is in the EU, then you should know what GDPR or
General Data Protection Regulation. This Requires many sites to have a clear Privacy policy on their website.
Sitemaps
XML sitemaps are essential on your site. You can find it in yourdomain.com/sitemap.xml. This will help the search engines what URLs are going to be indexed, especially in Google.
When you are auditing your website, this is the first thing you should check. The thing to avoid in the Sitemap has media attachment. Be sure to remove media attachments in your sitemap. That will be included as thin content.
Your site should have an HTML sitemap (see Google's sitemap info).
Robots.txt File
The robots.txt file will tell search engine bots what not to crawl and what needs to be crawled. Be sure to have the sitemap URL in there so they will not be missed crawling the links in your Sitemap.
Linking Strategy
This should be included in your checklist because having the linking strategy is very important whether you are internally or externally.
Internal linking will also help your users directly view the latest blog posts you have or the services and products you are offering.
Site Speed and Performance
This is a ranking factor for your website when you are doing sitewide or on-page optimization. For example, your competitor is ranking above you because their site is much faster than yours.
Fixing the speed of your website will surely outrank them, but also consider the other factors of ranking.
You can check the speed of your website in gtmetrix. I always used this tool to check my speed.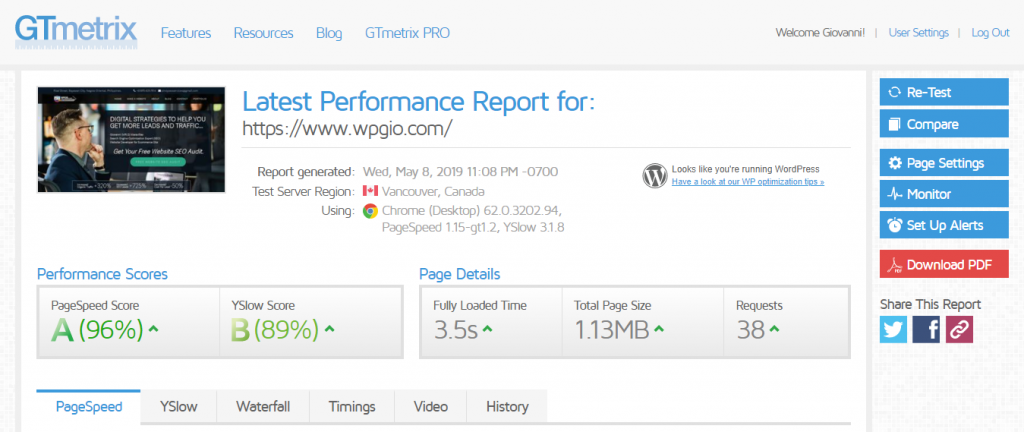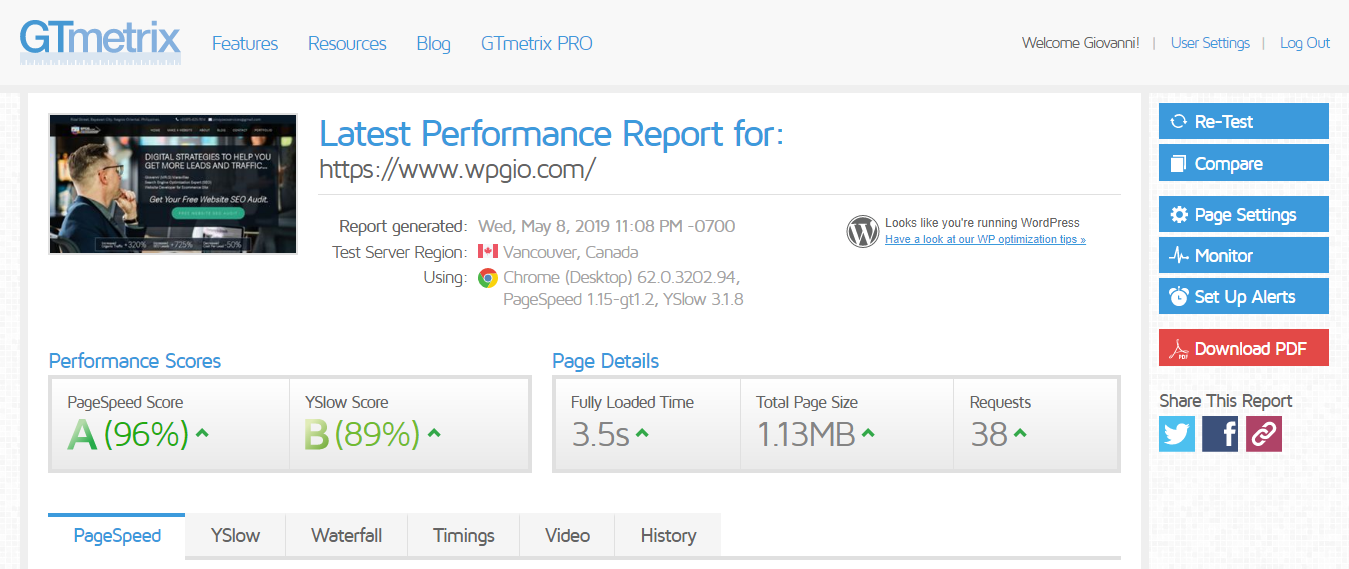 To know more about what you will check on your website, I have created an article that will guide you. It is the Checklist for SEO AUDIT.
Click here: THE BEST CHECKLIST FOR SEO AUDIT.
Simple SEO Case Study
This is my simple study if I can rank for the keyword of "SEO tutorial." Less than a month, I am in Rank 96. It's just an estimation, don't worry. Here I will show you some images in the google search console.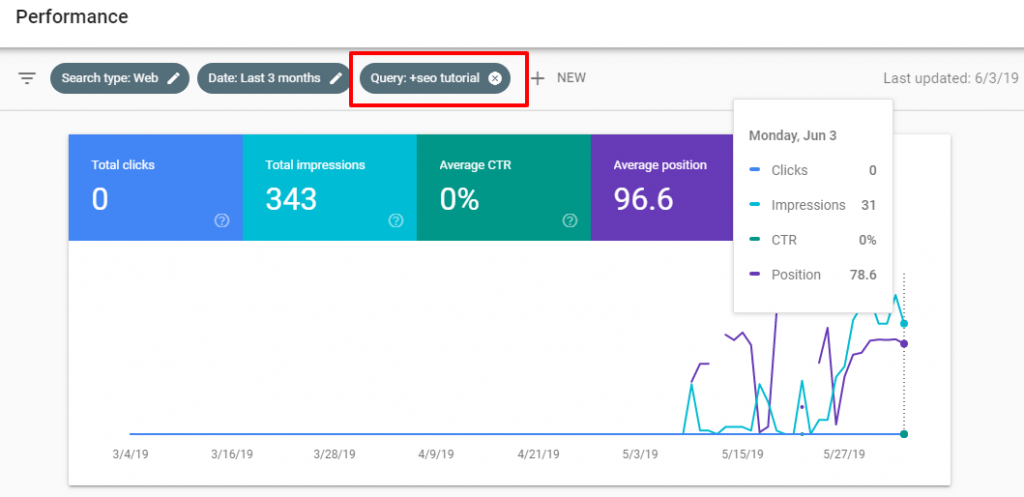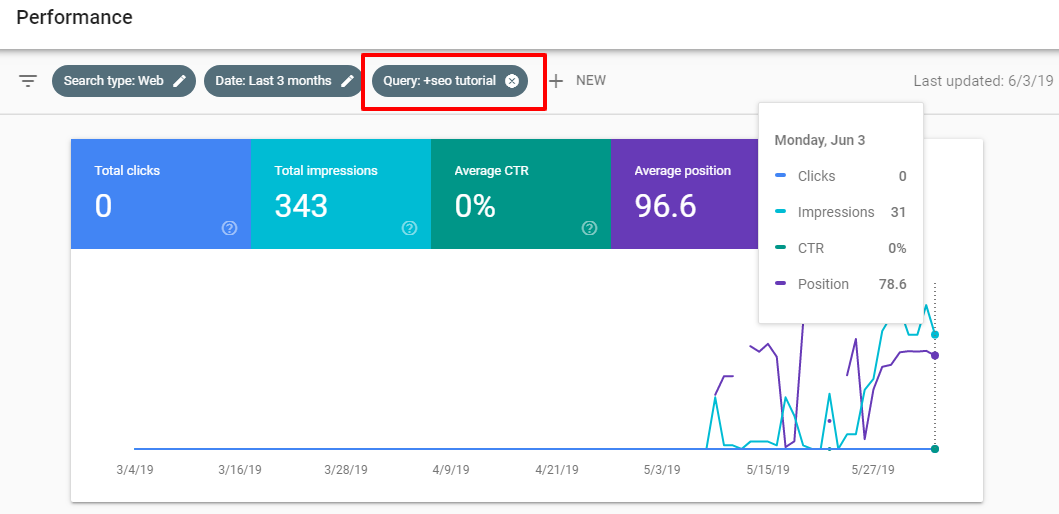 So in the first month, This is what I did; I just write content so that my readers can benefit from them. I just don't care about big and authority sites.
My goal for this case study is just to hit the average position in 30 somehow.
Check what page I'm talking about here: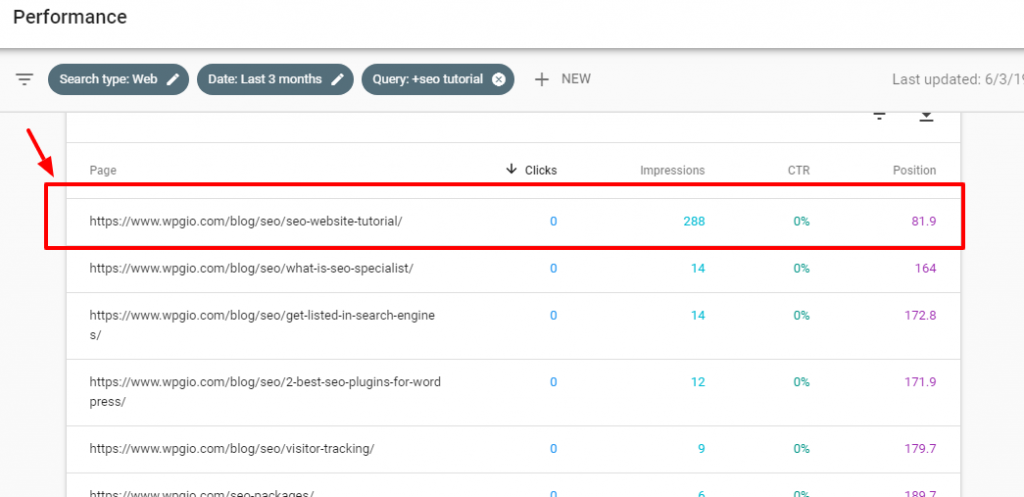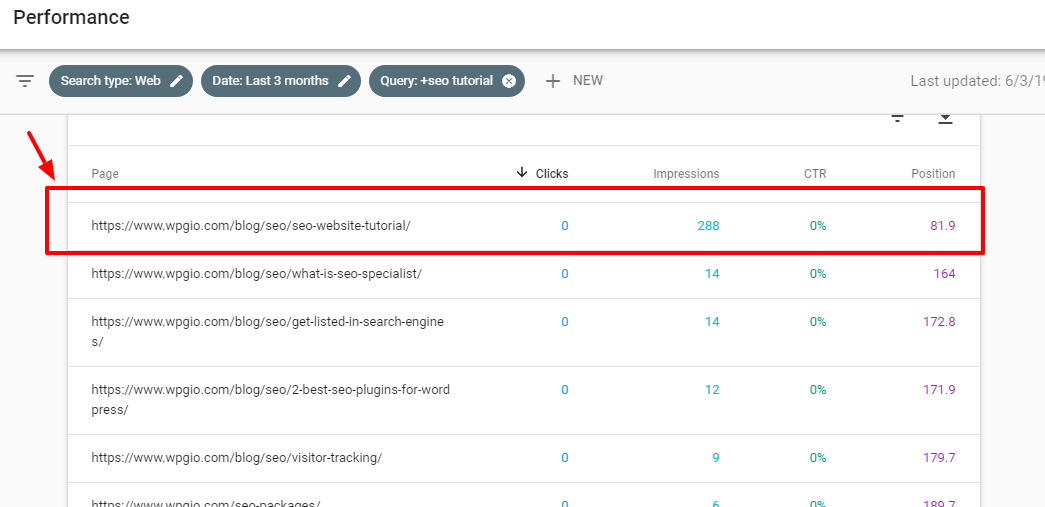 Are you excited about what happens next? Stay tuned, kids, hehe. Next month I will show you the results whether we rank lower or higher.
Conclusion
Starting in SEO needs a lot of hard work, especially if your website is new. And don't quit easily because there is so much to learn in this skill. No matter what you do, please stay away from blackhat techniques.
IF you like this article, please share it with your social media accounts or your friends who can benefit from it. If you share it and email me about it? I will personally like that for you.
Cheers,
G