Earn money for Free with Givvy App Review – Legit or Scam?
Introduction:
Earn money for Free with Givvy- One of the hottest reward-earning applications, you might want to try it as it offers you real money by earning virtual points through doing simple tasks such as games. Thus, if you are looking for something that will give you dollars while using your mobile phones, then this one is really promising!
On top of it, its system also varies with other reward-earning apps, so you may think that this could be the best alternative application for another app that always turns out to be a scam. However, you will now think, "Is this really legit?"
If this is your question, then scroll down below and learn more about Givvy through this review.
Disclosure: Some articles on this website contain affiliate/sponsored links. Read More about our Affiliate Disclosure.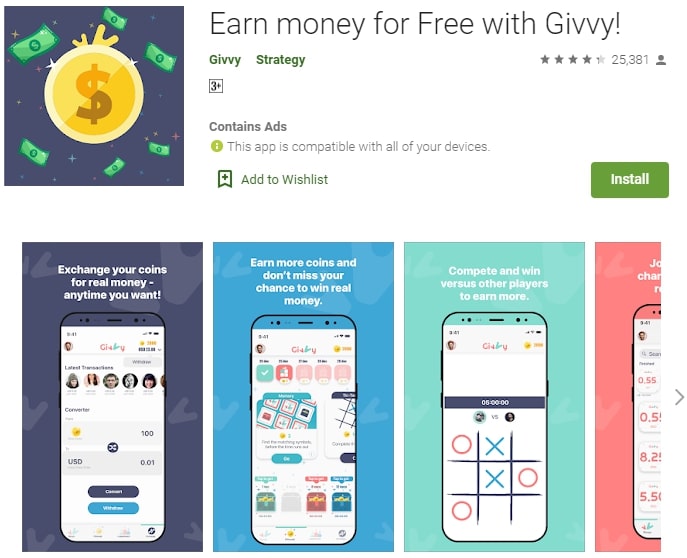 You can download GIVVY App Here: https://play.google.com/store/apps/details?id=com.givvy&hl=en
What is Givvy App?
Givvy is an application that allows you to earn real money by playing fun and exciting games (for FREE!). It claims a great offer of earning $100 after completing various tasks, and let you cash out even without invites.
The app is launched by Givvy Ltd, whose headquarters is located in Sofia Bulgaria.
How Does Givvy App Works?
To start earning money and other rewards through Givvy, you can download the application using your android phone and search for "Earn Money for Free with Givvy" on your Google Play Store. You can also download it using your IOS, via your app store.
As soon as you downloaded and installed the app, you will be required to choose your preferred language and currency for your cash out. Click continue and you have to accept their terms and conditions to go on.
You will be directed to their homepage, and the first thing you need to do is signup using either your Facebook or Gmail account and then you are set!
In addition to this, you will automatically receive Givvy points as a bonus after spending three minutes using the application.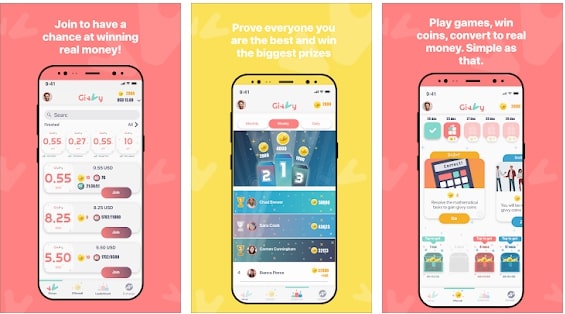 What are the ways to earn money using the Givvy app?
In this app, there are actually various ways to earn coins, Givvy currency, which you can redeem through rewards or exchange it with real cash.
1. Survey
One of the ways to earn Givvy coins is to fill out and complete surveys. However, you will have to finish filling your personal information first to qualify. Don't fret—questions are simple and will not ask your credit card or bank account numbers.
Make sure that you will only give the correct answers, as if you will be qualified, you will also receive a huge amount of coins.
2. Daily Check-in
To earn points by checking-in, you just have to login through the app and look for the 'daily check-in' section and participate in their calendar game. You can win more coins by spending time in the app for five consecutive days. The coins will be incrementing twice the amount of the former day to the latter days.
3. Playing Games
Undoubtedly, the app offers games that will kill your boring days. You can choose from fun lists of games including Tic-Tac-Toe which will allow you to compete with other players and earn coins by winning each game.
There's also the Memory game, that will test your brain and will let you find identical pairs of cards. Note that you need to limit your mistake up to 3 errors only or you will lose the game.
If you love math, there's also a game called Calculate/ 2+2=? which will require you to answer Math problems to earn coins.
4. Invite Friends
You don't necessarily need to invite your friends and family, but this will actually give you 130 points for each invite. In return, your invite will receive 130 coins as well for using your special link to download the app. Moreover, you can have up to 240 coins when your invite collected their first 500 coins.
If you want to participate in this task, you can share your unique link via social media outlets, or copy the link and share it with your friends and family.
5. Tasks and Other Offers
For every task and offer that you will complete, you can earn more coins such as liking and following their social official social media accounts.
There are also chests that you can open for additional coins.
6. Participating Giveaways
Givvy has giveaways for users which you can only join when you complete tasks and games as well as earn the minimum points needed for the raffle. To join, you have to buy your slot via coins.
Leader boards and Ranking
Givvy also offers a leaderboard or ranking system, where you can be able to earn up to 4000 coins if you will peak the ranking, 2000 for rank 2, and 1000 for rank 3.
How to Cash Out Givvy Coins?
To earn money for free with Givvy, you can exchange your accumulated coins and redeem it via rewards or real cash.
For every 119 coins that you will earn, you can have $0.01. For each coin you will earn, you can use the Givvy converter to check how much you are actually earning. After converting your points, you can withdraw it via PayPal, and you will need to provide your PayPal email address to cash out.
The minimum amount to withdraw is $0.21, which is a really low payment threshold. You can also redeem it through Revolut for $0.10.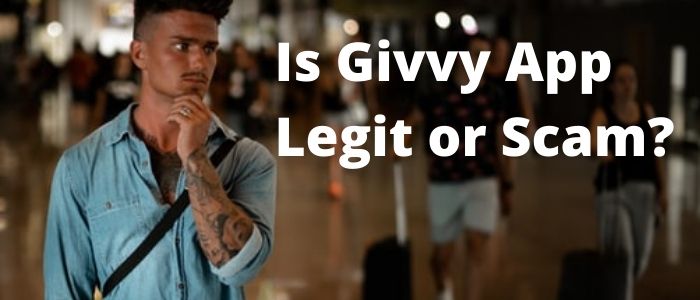 Is Givvy App Legit or Scam?
The Givvy app is LEGIT! Several users actually posted and shared their proofs of payout. Also, Givvy is transparent to their transactions; thus, you can see the users who recently received their money through their converter page.
Pros and Cons
Pros
Low payment threshold
Payment via PayPal
Giveaways
Transparency and fast transactions
Cons
Games are limited and repetitive
Limited lives for playing the games
Ads are a limited reason why you can't play more games.
Glitches in the app
The points that you earn is too high to earn a little amount of money
Can you really win money Playing apps?
80% yes. I say it is 80% because there are also other apps which is scam. You can check out more reviews in my sites about different application that can bring you an extra income.
If you are asking what is the application that gives me a decent amount of income it is Buzzbreak. Check out Buzzbreak Review here.
Givvy App Review Conclusion:
You can indeed earn money for free with Givvy, but this will not make you rich or you'll feel like the time that you will exert in the app is not worthy of its payout. However, it will still not hurt you to try to earn up to $100!
Givvy is a rare app that will give you actual money, so with little patience and effort, this app will be one of your treasured apps as well for its smooth transaction and system.
Check out other people reviews about Givvy here…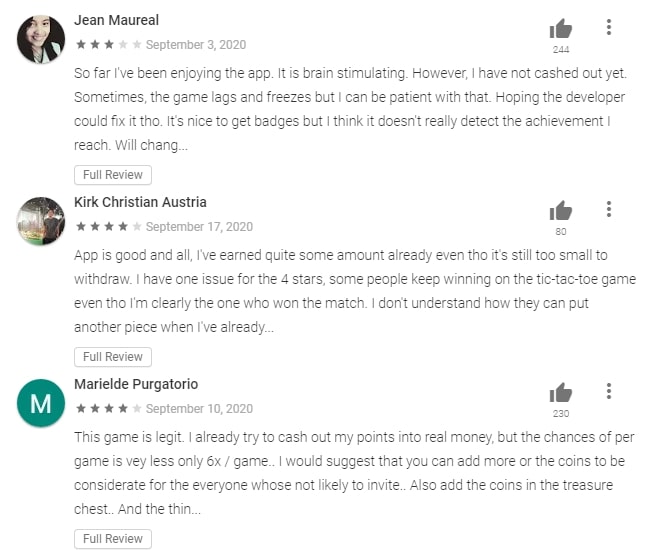 Let me know in the comment section if you have used it. Or how does it works for you.
Check also this awesome application that will give you extra income